Thai Red Curry Lake Trout
Written by Harold
Thai Red Curry Lake Trout
Try this unique and delicious recipe for your next shore lunch. 
• 3 to 4 pound Lake Trout, filleted and cut into chunks
• 50 gr. green onions, thinly sliced on the diagonal
• 2 small red peppers, julienned
• 1 small yellow onion, chopped
• 200 gr. sliced mushrooms
• ½ tsp. finely chopped lemon grass
• 2 tbs. Thai red curry paste
• 2 tbs. sesame oil
• 2 – 398 ml. cans "Thai style" coconut milk
• 2 fresh limes
Heat sesame oil in frying pan and add green onions, red pepper, yellow onion, sliced mushrooms and lemon grass.
Sauté vegetables until tender crisp.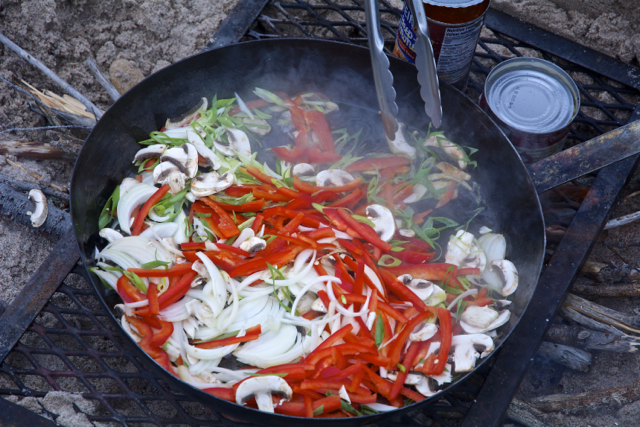 Stir in coconut milk and red curry paste, then simmer for a few minutes until the sauce begins to thicken.
Stir in the juice from the limes then add fish.
Continue simmering for 2 to 3 minutes, or until fish is cooked through.
Cooks Notes:
This dish goes very well with rice. Pack some cooked rice in your shore lunch box, then reheat in a frying pan moistening the rice with a bit of soya sauce. 
In the alternative mix the rice directly into the sauce and continue simmering until heated through.
To save some time, chop up your vegetables, including the lemon grass the night before, and store in a zip lock bag.
No Great Bear Lake Trout - no worries - make this at home using fresh Salmon.
Thanks to Guide/Red Seal Chef Josh Gelinas for this inspired recipe.
Last modified onSaturday, 27 May 2017 23:48