Potentilla & Black Spruce Tea
Written by Harold
Potentilla Plant
The Potentilla, or cinquefoil plant are those shrub like plants with the distinctive yellow flowers that are common throughout the Great Bear Lake area and can, when combined with some sprigs from a Black Spruce tree – another Great Bear staple – produce a very distinctive, and pleasant tasting cup of tea.
• 4 cups water
• ¾ cup Potentilla leaves (green leaves only)
• 4 – 4" Black Spruce sprigs
Bring water to a boil, then add the Potentilla leaves and Spruce sprigs.
Boil for approximately 5 minutes, or until the water turns a light tinge of green.
Remove from the fire and let steep for another 2 to 3 minutes.
Using a slotted spoon remove the leaves and Spruce sprigs and serve.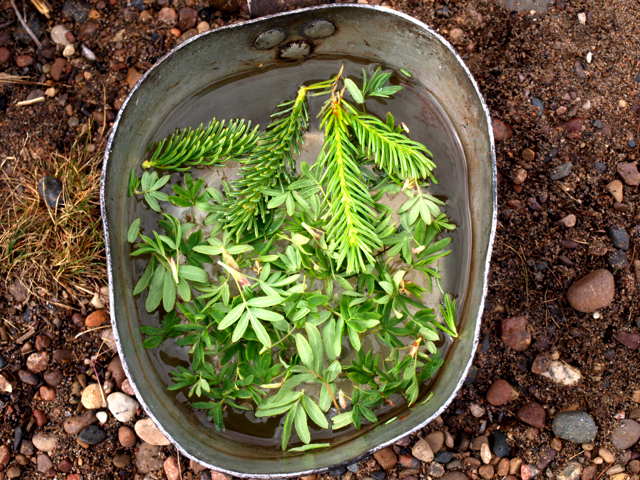 NOTE: This plant, together with Black Spruce trees are common throughout North America, so you don't have to be in the Arctic to enjoy a cup of this delicious tea. If you like you tea on the sweet side, sugar or a few drops of honey would not go amiss with this brew
Special thanks to guide Josh Gelinas for brewing up a pot of this tea at shore lunch and for sharing the recipe.
Last modified onSaturday, 27 May 2017 23:49