Great Bear Lake - Trip Planner
Written by Harold
For many, a trip to Great Bear Lake is likely to be a "once in a lifetime" experience, and unless you are an experienced Arctic traveler, preparing for a trip of this kind, takes a fair amount of thought and planning.
Environmental conditions can run to extremes, and changes in the weather are at times measured in minutes or hours, rather than days. It can get downright hot, and ice and snow are not unheard of throughout the short Arctic summer.
The fish you catch will challenge your skill and equipment in ways you may have never encountered, and if you happen to forget some critical item, like your medication or prescription glasses, it's one hell of a long walk to the nearest pharmacy or optician.
I recall attempting to tell my dad what he should consider packing, prior to making his "once in a lifetime" trip to Branson's Lodge in 1985. Not one to take advice from a kid that HE had taught how to fish, I was informed that fishing on Lake Temagami - a pretty big lake in its own right which is located in Northern Ontario - could not be much different than Great Bear, and his gear and tackle would be more than adequate.
Lets just say that he was cold for much of the week, the drag burned out on one of his reels, and after a twenty-mile ride across the Smith Arm in six footers, he grudgingly admitted that Great Bear was unlike anything he had previously encountered - even on Lake Temagami.
When describing his flagship retail store, "Honest" Ed Mirvish, a noted Toronto entrepreneur, said:
"There ain't no place, like this place, anyplace!"
He could have just as easily been describing Great Bear Lake, and for me, this has become my mantra when it comes to preparing for each trip.
Set Reasonable Goals and Expectations
First and foremost, ask, and honestly answer the following question:
Why do you want to go to Great Bear Lake?
Your answer will, to a large degree, help you set your personal goals and expectations for the trip.
Some of you may think this suggestion boarders on over-kill, because after all, it's only a fishing trip - right? Perhaps somewhat more extreme in nature, and little further away - but still a fishing trip.
Maybe for some, but if you only get one shot at this, use up a good chunk of your vacation, and spend a boatload of money, it makes sense to have a clear idea of what your expectations are, and what you can reasonably expect to encounter once you get there.
Great Bear Lake has the biggest Lake Trout, Grayling and I would venture to say Whitefish in the world - period. There is world-class Pike fishing available, and if you book your trip through Plummer's Lodges, you have access to what is perhaps the best - and certainly the most beautiful place to catch Arctic Char anywhere north of the South Pole - the Tree River.
There are countless bays, streams, shoals and inlets across the "Bears" 12,000 square mile expanse that have rarely, if ever seen a line, but the one thing all this incredible water does not come with - is a guarantee.
The Arctic can throw all manner of curves at you, and don't forget they call it fishing, not catching, for a reason. You will certainly catch your share of fish, but 30, 40 or 50-pound Lake Trout are not just going to jump into your boat. The weather can push you off the water, sometimes for days, and even these fish, which are hungry most of the time, can come down with a case of lockjaw on occasion.
Do Your Research
The very best way to find out what it's really like, is to talk to people who have actually been there - preferably more than once.
Plummer's Lodge, which may be the only viable game in town if you want to fish the Bear, will certainly provide you with references.
Other options are to post questions on this site, Facebook, or you can also Google, Great Bear Lake, and see what comes up.
Check out my Great Bear Lake - Field Journal entries, either on this site, or by going to www.cabin14.ca., for a blow-by-blow account of what transpired on several of my most recent trips, or for that matter, feel free to drop me a personal note at This email address is being protected from spambots. You need JavaScript enabled to view it.. I have been up there over forty times, and will give it to you straight.
The bottom line is this, once you have done your research, and at the end of the day have any serious doubts about whether a trip of this kind is for you, my advice is - give it a pass.
Booking Your Trip
To be honest, you don't have all that many choices, particularly if you plan on staying at a lodge.
Although there were once as many as five independent lodges operating on Great Bear, you are now left with but two choices.
In my view, your best choice would be to book with Plummer's Arctic Lodges - www.plummerslodges.com.
Plummer's operate several fishing lodges and outpost camps across much of Great Bear Lake, and offer side trips for Arctic Char, on either the Tree or Coppermine Rivers. For the more adventurous, they can outfit a sea kayak expedition on the big lake, or arrange a rafting/canoeing trip down one of several, wild Arctic rivers.
In the alternative, there is a lodge/hotel in Deline, Great Bear's only permanent settlement, called Grey Goose Lodge – www.destinationdeline.com - that offer both guided weekend fishing packages and cultural immersion experiences.
While it is possible to go the "do it yourself" route, unless you have experience traveling solo in the Arctic, the financial resources, and the skills to manage the complex logistics of acquiring and transporting all the necessary equipment, it's best to go with an experienced outfitter.
I would also suggest, that if thinking about going it alone, before getting too far into the planning process, you should be aware that fishing on Great Bear may be subject to the Sahtu Dene and Métis Comprehensive Land Claims Agreement.
Therefore, in accordance with this agreement, permission may be required to access Sahtu Dene and Métis private land, and/or to fish in any designated Special Harvesting Area(s) on Great Bear.
To find out what, if any restrictions apply, contact the applicable Renewable Resources Council or Land Corporation at: Norman Wells (867) 587-2455, Dél ̨ınę (867) 589-4224 or Fort Good Hope (867) 598-2193.
When to Head on Up
How does July or August sound?
These are your only two choices if you:
Book with Plummers,

Want a reasonable chance of avoiding large quantities of ice that can severely restrict your ability to fish and get around, and

Would like to increase the odds of getting some relatively stable weather.
When it comes to the fishing, I don't believe that one particular week is clearly better than any of the others.
Personally, I like the second week of July, because the ice has usually just gone out, although there can still be some floating around, and the fish are up in the shallows. As an added bonus, the sun never sets early in the season, which means I can fish just about any time the spirit moves me.
As the season progresses, the bigger Lake Trout will drop off onto, and scatter across the main lake shoals, and your going to have to fish deeper to find them.
Experience has shown, that while you may have a chance to catch more of the bigger fish just after ice out, when they are concentrated in the shallows, there have been many huge fish caught in late July and throughout the month of August, on the deep, main lake shoals.
If your goal is to catch an Arctic Char at the peak of they're spawning colours, mid to late August is your best bet. That's also a good time to see the Northern Lights.
With respect to smaller trout, Grayling and Whitefish, they tend to remain relatively shallow throughout the season.
Getting There
All roads to Great Bear Lake invariably run through Yellowknife, or as the locals call it, YK.
Plummers fly their guests directly to Great Bear from YK, but if doing your own thing, you can either charter an aircraft and fly directly to the lake, or pick up a commercial flight from YK to Norman Wells, then catch one of the regularly scheduled flights operated by North-Wright Air to Deline.
First Air, Air Canada, Westjet, and Canadian North all offer regular service to YK. In terms of direct flights, they are offered through Edmonton, Calgary and Ottawa.
All of these airlines run seat sales from time to time, so it's a good idea to check their websites on a regular basis.
Another other option is to drive to YK. It's a bit of a hike to say the least, but you will see some interesting country, and maybe even a few Wood Buffalo along the way.
What to Budget
The amount I am about to suggest is based on booking with Plummers, flying out of Toronto, staying one night in both Edmonton and YK on the inbound portion, and another night in YK on the way home.
Costs will vary depending on any number of factors, such as where your trip originates, seat sales, the number of overnight stays, and any optional fly outs you take while at the lodge.
The base amount you should budget for a week on Great Bear is approximately $8800. Please remember that these are approximate costs only, based on 2021/22 rates, and for the most part, inclusive of taxes.
Base Trip - Great Bear Lake Lodge $6095, Trophy Lodge - $6695 pp plus GST (based on 2 fishermen)

Airfare - $800 - subject to point of origin, and seat sales.

Accommodation - $250 to $300 - assuming two in a room, and one night in Edmonton and 2 nights in YK.

Meals - $200 - this obviously will vary, depending on whether you eat at Ruth's Chris or Mickey D's.

Gratuities - $300 to $500 - for your guide and the housekeeping/wait staff.

Tackle/Drink Purchases at Lodge - $100.
If you decide to take one of the many optional fly outs offered by Plummers, add at least another $500* to the above total. As for Arctic Char fishing, an overnight at the Tree River is $1200, and a day trip to the Coppermine will likely cost around $700*.
*Please note that while the pricing for the lodges and Tree River are current there were likely price adjustments for the other fly outs that I will update once the information becomes available.
While not included in the above costs, you will be required to purchase a Northwest Territories fishing license. If you are a Canadian resident your cost will be $20 for a seasonal license, plus an additional $10 Great Bear Lake Special Management Area fee. Non-resident licenses are $40, plus the $10 special management fee.
If taking a fly out for Arctic Char, you will be traveling from the Northwest Territories to Nunavut, and therefore must purchase a Nunavut fishing license. The good news is you can buy a three-day license, which costs $15 for Canadian residents, and $30 for non- residents.
All required licenses are available at the lodge.
Because the charter flight to Great Bear leaves early Saturday morning, you have no choice but to get into YK the Friday before, as there are no scheduled flights into YK on Saturday that will arrive before "wheels up."
Depending on your starting point, it is possible to get to YK on the same day, otherwise plan to come in on Thursday, and spend the night either in Edmonton, Calgary or Vancouver.
On the way out from Great Bear, because anything can, and usually does happen to delay your return flight to YK, rather than risk missing your connection, it's best to stay the night in YK, and fly back the next day.
I won't venture to guess what a self-guided/outfitted trip would cost, but if there are no regularly scheduled commercial flights or onsite outfitters available, you will have to acquire boats, motors, fuel, food, and everything else you're going to need, then charter an aircraft to fly it all in - and that can get very pricy.
While in YK
Yellowknife is the capital city of the Northwest Territories, and has a population of about 20,000.
The city has all of the modern amenities, including a good choice of hotels and restaurants. Plummers can make hotel reservations for you, or just go on line, and do it yourself. Two of the better hotels are the Chateau Nova -http://www.novahotels.ca/chateau-nova-yellowknife/ - and the Explorer - www.explorerhotel.ca. If you have the time it is worth trying the Explorer's excellent Sunday brunch.
If you have some time to spare, consider heading over to the "Old Town, and grabbing a bite at the Wildcat Cafe, Bullock's Bistro for fresh fish from Great Slave Lake, the Woodyard Brewhouse and Eatery that features some excellent house brewed beers, great burgers and interesting entrees such as fried chicken and dumplings, or at a relatively new player on the YK dinning scene the Copper House. It is also worth checking out theVisitors Centre and/or the Prince of Wales Northern Heritage Centre.
In the mood for a good burger, cold draught and/or a single malt scotch? Then give the Black Knight Pub a try. YK has many other excellent restaurants, so check with the staff at your hotel, and ask them to recommend something that suits your taste and budget.  For those of you who need one last Tim Horton's fix before heading north, not to worry, because YK has a Timmy's that's open 24/7.
YK has a number of galleries and craft stores worth visiting, such as the Gallery of the Midnight Sun, that feature Inuit, Dene and other northern artists, and if you happen to be in the market for a Canadian diamond, you have come to the right place, because YK is North America's diamond capital.
Speaking of diamonds, remember that you are going to be spending about eight grand on a fishing trip, so it probably makes sense to bring back something very nice for that special person who is taking care of business back home, while you're off having the time of your life.
What to Pack
Although you will be traveling to one of the most remote locations on the planet, don't think you have to bring along several steamer trunks full of gear. The fact is you will have to pack relatively light.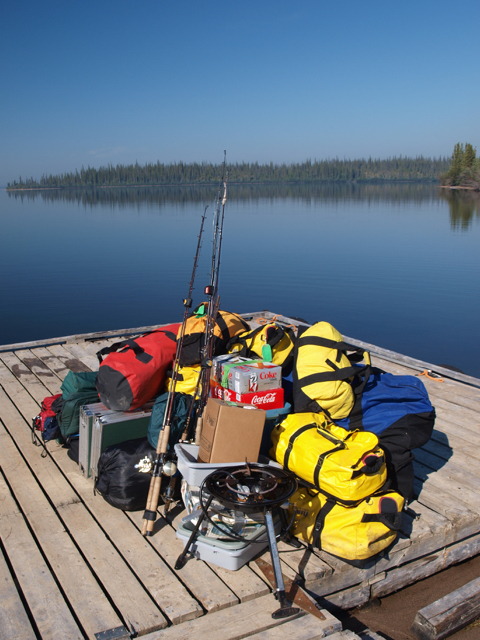 There are specific weight restrictions, particularly on the charter portion of your trip into the lake. Make sure that your gear does not weigh any more than fifty to sixty pounds in total, and you should be fine. If your bag(s) is too heavy, the commercial airlines will charge you an additional fee, and the charter company may very well require you to leave some gear behind.
Remember, you will be landing on a rather short, gravel or grass strip, not on a 10,000 foot paved runway, so for safety reasons; it's critical that the aircraft is not overweight.
When it comes to your outerwear and tackle, think quality above all else.
If you don't want to drop $300-$400 on high tech rainwear and boots, because this may be the only time you have any practical use for them, try and borrow some. It's going to be cold up there, particularly when you are clipping along in your boat over forty-five degree water, and there is a good chance you will get wet, one way or another.
Because you're likely to be out on the water for at least ten hours each day, believe me; you do not want to be cold and damp the entire time.
Weather conditions have a tendency to change throughout the day; therefore I would highly recommend dressing in layers. While some prefer the one-piece "survival" type suites, I'm not a huge fan, as they tend to be bulky, and don't provide the option of layering up, or down, as conditions warrant.
The same applies to your fishing gear when it comes to quality. These fish will put a tremendous amount of strain on your tackle, therefore unless you want to run the risk of loosing that fish of a lifetime, it's very important to have quality rods, terminal tackle, and reels that are spooled with fresh line.
In the event you don't have the necessary rods and reels, and would rather not go to the expense of purchasing new equipment, try borrowing, or check with the lodge to see what they have available in the way of loaners.
If you happen to enjoy a wee dram of scotch, or some other libation at the end of the day, while the main lodge carries a reasonably good selection of wine, beer and liquor, you may want to consider packing a bottle of your favorite spirits in your carry on.
Do you wear prescription glasses, or take prescription medication? If so, remember to bring along some spares.
I usually pack:
SLR camera, extra batteries and memory card(s), charger and assorted lenses, all packed in a small waterproof case.

Small kit bag, with toiletries, and a small assortment of patent medicines.

Waterproof/breathable parka, and bib type pants.

Polar Fleece jacket.

1 set of thermals.

6 to 8 - inch, waterproof/breathable - insulated boots.

2 pairs of thermal sox.

2 pairs of pants.

2 long sleeve shirts.

2 "T" shirts.

Socks/underwear. (You may need a change of underwear if you happen to land a 50+!)

Pair of insulated/waterproof gloves.

Pair of light, neoprene gloves.

Toque.

Hat - either baseball, or Tilley style.

Sunscreen.

Field Journal and pen.

Book.

1 can - Insect repellant, and a mesh, hooded bug jacket.

Polarized glasses, in a hard shell case.

Tackle Box - I use a small Bass Pro, soft-sided "Extreme" Boat Bag, together with several plastic utility boxes.

Green plastic garbage bag for bringing home dirty cloths.

Plastic "Ziploc" bag with three or four bungee cords in assorted sizes, and a small roll of duct tape.

Tackle - see below.

Small carry on with airline tickets, hotel reservation confirmation(s), lodge luggage tags and passport.

Leatherman or similar type multi-tool which you should NOT pack in your carry on unless you want it confiscated at airport security, and a

Quality, soft sided, duffle type bag, big enough to hold all of the above, including tackle.
In the past, it has been possible to have some laundry done at the lodge for a small fee. Check with the lodge to see if this service is still available, and if so, take this into consideration when making your final decision on how much clothing to pack.
Tackle
Most Lake Trout are caught trolling - particularly those over twenty pounds - while Grayling, Char, Pike and Whitefish are generally caught casting.
The best lures for Lakers are in my opinion Flatfish - T60 size, Half-Waves, in both 4.5 and 5.5 inch sizes, and the Eppinger Huskie Devel.
As for lure colours, blue/silver, red/white/silver, chartreuse, copper/chartreuse or metallic green/orange have worked well over the years, but don't be afraid to experiment. Bring a couple your favorite lures, because you never know, one of them might produce that next world record.
White bucktail jigs, either ¼ or 3/8 ounce in size, are great for picking up a shore lunch fish, or casting into the shallows with light tackle, for smaller trout.
Grayling love small, 1/8 or ¼ ounce spinners, such as Mepps or Panther Martins. They will also take small jigs, dressed with a black or white grub.
Char are usually caught in very fast water; so heavier spoons in the ½, to one-ounce range are the way to go. 7/8 ounce Pixies, with a red, orange or chartreuse insert are very effective, as are Eppinger Devel Dogs.
Pike will attack just about anything, although they seem to be particularly fond of 7/16-ounce - Chrome/Blue - Blue Fox Vibrex spinners.
In the event you come across some Whitefish, think small and smaller - as in 1/8 ounce, or less. They tend to be rather spooky, but will take small marabou jigs, or grubs. If you fish Crappie and/or Perch, then you probably have the lures you will need to catch them, or for that matter, Grayling.
Regarding terminal tackle, you will need a couple of twelve to eighteen inch leaders for Pike, and several good quality, solid ring, coast lock, ball bearing snap swivels, such as those made by Sampo or Spro. Throw in a couple of weights as well, because if fishing later in the season, or if there is an early ice out, you will have to get your lure down to at least thirty feet, if not more.
I would recommend bringing a heavy, musky type rod/reel combo for Lakers (your reel capacity should be no less than 200 yards), a medium weight casting rod/reel combo for Char and Pike, and an ultra-light spinning rod/reel combo for Grayling and Whitefish. If possible, pack a spare trolling outfit, and an extra spool of heavy line, because if "Troutzilla" destroys your trolling outfit, and the lodge can't find you a replacement, the nearest tackle store is about 500 miles away.
Another option for Lakers, and one that is becoming increasingly popular, are longer, down rigger style rods in the the 8' to 9' range, with a fast action tip. These types of rods have been especially effective when fishing deeper water (30 ft. +) later in the season. A good choice is the Shimano Clarus - CSC 86H2B. It's a very capable 2 piece rod that can definitely handle big fish, and being 2 piece, it fits nicely into virtually any rod tube.
Spool the Laker combo with fresh, good quality, twenty-five to thirty pound test, your Char/Pike combo with fifteen pound, and your ultra- light, with six pound.
Fly -fishing has become increasingly popular on Great Bear, and Lake Trout (including the big ones), Pike, Grayling, Whitefish and Char will all take a fly. If you will be fishing the Tree River and happen to have a Spey rod, bring it along as this river is perfect for that kind of fishing.
For Lake Trout, Char and Pike, I would not recommend anything smaller than an 8wt. If you plan on trolling flies in the hope of catching a trophy size trout, you should consider going even bigger. For Grayling, Whitefish and smaller trout, a 6wt, or even something a bit smaller will be more than adequate.
Bring an assortment of lines, including at least one sink tip, and both light and heavy tippet material. If planning on doing some Pike fishing, pack some wire leaders, or heavy - duty fluorocarbon leader material.
Big, flashy, streamer flies work well for Lakers, Char and Pike, while not surprisingly, Grayling and Whitefish prefer something small. Take an assortment of both wet and dry flies, because any of these fish will take either type, but depending on the circumstances, there are times when only a dry fly will do.
To summarize:
1 heavy, musky type or down rigger style rod in the the 8' to 9' range, with a fast action tip rod/reel combo spooled with 25-30 pound test.

1 medium weight, casting rod/reel combo spooled with 15- pound test.

1 ultra-light, rod/reel combo spooled with 6-pound test.

1 back up, heavy trolling outfit, and an extra spool of line.

6 -T-60 Flatfish

2 - 4.5" -Half - Waves

2 - 5.5" - Half - Waves

2 - Husky Devel's

6 - Pixies and/or Rocket Devel's - ½ to 1 ounce.

2 - Blue Fox, Vibrex Spinners - 7/16 ounce

2 - White, bucktail jigs- ¼ or 3/8 ounce

2 - Steel or fluorocarbon leaders - 12 to 18"

4 - Mepps or Panther Martin spinners - 1/8 or ¼ ounce

Several, 1/8 ounce or smaller, marabou jigs and/or grubs

4 - each of 1-9/16" and 2-5/16" - solid ring, coast lock, ball bearing swivels, if using Sampo, or the equivalent sizes in Spro, if available.

4 - 9/16" - Sampo, ball-bearing swivels.

2 - 2 or 3 ounce, bottom walker, or clip on sinkers.

Hook sharpener.

8 wt fly rod

6 wt fly rod

3 - fly reels with line

Tippet material

Assortment of wet/dry flies

Hemostats
As mentioned, I would recommend packing the lures in appropriately sized, plastic utility boxes, that will all fit into a relatively small, soft sided tackle bag. The tackle bag can be compressed, and the boxes packed individually, so that everything will easily fit into your duffle bag.
In the event you're not planning on fishing for anything other than Lake Trout, you can scale back on your tackle accordingly.
To transport your fishing rods safely, you will need a quality rod tube. The commercial models available at most sporting goods stores are, in my opinion, barley adequate at best, so unfortunately the only other option is to make your own tube.
If you are interested in doing so, please click on: http://www.cabin14.ca/blog/cabin-14-blog-category/item/165-half-rods-will-travel for instructions on how to make a rod tube that is virtually airline proof.
There is a check - list covering all of the above at the end of this article, that you can either print, or upload onto your personal computer.
Self Guided Option
One of the increasingly popular trips being offered by Plummer's Lodges is a self -guided option to what was formerly Arctic Circle Lodge.
The 2021/22 rate for the Arctic Circle Lodge Outpost is $4395 pp plus GST.
As you will not be fishing with a guide, who would normally have most, if not all of the items listed below, you may want to add the following to your tackle bag.
• Heavy Duty Pliers with lanyard – for removing big hooks from what will hopefully be big fish.
• Utility gloves – for handling fish, removing hooks etc.
• Metal Cutters, in the event you have to cut a hook.
• Weigh Scale – 50 pound min.
• Small First Aid Kit
• GPS with built in TOPO map of the area.
• Extra batteries for GPS.
Where to Buy Stuff
For quality outerwear, Cabela's, Bass Pro, Sail and Mountain Equipment Co-op carry a good selection of all the top brands.
Many of the lures, and some of the terminal tackle I mentioned can be found at most sporting goods stores - including Canadian Tire, which while in Yellowknife, is probably your best bet, although Walmart does carry some fishing gear.
In the event you have some time to kill while in Edmonton, visit either Mountain Equipment Co-op, Cabela's or the Fishin' Hole. If in Calgary, there is both a Cabela's, Fishin' Hole and Mountain Equipment Co-op.
You can also order on line from any of these retailers.
T-60 Flatfish, and the bigger spoons can be a challenge to find, as will Sampo and Spro Swivels.
Bass Pro and Cabela's carry Sampo swivels, but the in-store selection tends to be very limited.
Rather than take a chance that the retailer will have what you need in stock, I would recommend buying direct from the manufacturer.
If you happen to forget some bit of tackle, or loose a lure or two, the tackle store at Plummers main lodge has a good selection, as do many of the guides. The lodge also has quality rods and reels that they will be happy to lend you in the event you don't have, or prefer not to haul your own gear with you. If you are planning on taking advantage of this service, let them know ahead of time in order to ensure they have enough on hand.
That Should About Cover It
If contemplating a trip to Great Bear Lake, hopefully you have found this article helpful.
It's not intended to cover every eventuality, but rather to provide an overview of what you can reasonably expect to encounter, where to find a cold beer, and the type of gear you're likely to need should you indeed decide that a trip of this kind is right for you.
Great Bear Lake is truly a remarkable place, and while it can, and will throw any number of challenges your way, with some careful planning, and by setting realistic goals and expectations, you should have no difficulty overcoming them.
Take a moment and scroll through the Great Bear Lake Outdoors photo gallery, for a glimpse of what might be in store for you, on what is without a doubt, the greatest of all freshwater lakes.
Above all, have fun and enjoy the entire experience, which of course includes all of the planning, shopping - and dreaming - that will take place long before you even get there.
Last modified onTuesday, 01 February 2022 14:03