Donny "Trout Scout" Wiggans Trophy Lodge Adventure
Written by Harold
Donny just after landing at Trophy Lodge
Another great story and pictures from Donny "Trout Scout" Wiggans about his recent trip to Plummer's Trophy Lodge.
Well, Another Trip Of A Life Time to Plummer's Trophy Lodge on Great Bear Lake has come and gone.
It was my third trip in a row to Bear and it seems to be turning into an annual. 
The fishing at Trophy Lodge is the best in the world for lake trout and this year was no different. Chris, our buddy, caught a 60 pounder the week before we got there and the week we were there 50 and 40 pounders were caught.
Carl Lanciaux was my guide again this year. Like last year it was just the two of us in the boat, this way Carl can fish and I get to net and handle the fish, which I love to do.
Carl caught the biggest fish of his life, a 48 pounder that gave the two of us quite the battle in the wavy conditions.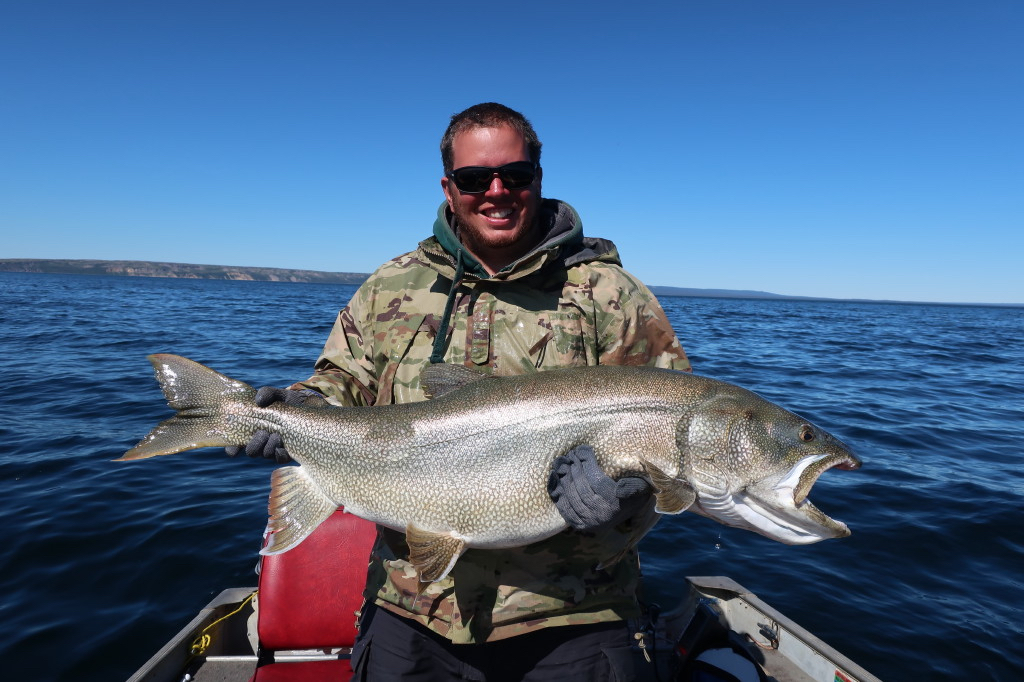 There were many fish caught over 20 pounds and some in the 30s. But we spent most of our time hunting hogs out in the deep water where it is like a needle in a haystack trolling for monster Lakers. It is hours of nothing and then sheer terror and mayhem when you get a bite. You really do have to be lucky to get a bite and even luckier to get it in the net.
We are still looking for a fish that is honestly over 50 pounds. That is what brings you back to Bear, just knowing there are 50, 60, 70 and yes, 80 pounders swimming around under your boat. 
Once again this year there was a good mix of guests and guides. It was so much fun to get back and hang out with the old veteran and rookie guides.
You have to be a little crazy to be a guide on Great Bear Lake. It is a huge lake and when the wind blows it can turn into a nightmare!
Our last day we were 25 km out on the X Shoals it was calm and beautiful. Then a ripple started on the water and in 3 minutes it turned into a gale force wind. We surfed and crashed trough the giant waves taking buckets of water in the face.
I was so glad to get back to the lodge. Carl didn't think it was that bad but Jelly, our buddy, took a wave over the bow and had to pull the plug while driving in the big waves...that is pushing it in forty degree water!! 
The staff this year was amazing!
Trudy, a new comer to Trophy, ran the camp like a pro. She was always there for our every need. The food was really delicious this year with less bacon than last year.
Speaking of bacon, there was one person that was dearly missed this year, which was Aivars, who loved bacon with lots of ketchup. Aivars sadly passed away this year. He has been a Bear legend for many years and the holder of the unofficial world record. There was nothing like sitting around the dinner table listening to the many fish stories Aivars had about Bear.
He will be dearly missed but his spirit will live on at Great Bear Lake.
Thanks again to the amazing staff and management at Plummer's Lodgers for making another Trip Of A Life Time happen!
Donny
Trout Scout
Last modified onSunday, 20 May 2018 12:57