Great Bear Trophy Lodge - July 8 - 15, 2017
Written by Harold
Has Anyone Seen My Avocados?
Start Me Up!
Our group consisting of Great Bear veterans Art Ross, Kenny Gold, Rodney Harback and yours truly, together with newcomers Henry and James Zohar, arrived in Edmonton on July 6.
While we would not be flying to Yellowknife until the following day, getting in a day early gives us an opportunity to catch up, do a bit of planning, and a lot of shopping.
Our biggest challenge was to try and find Rodney an insulated vest, in that he somehow forgot to pack the one he recently purchased before leaving Harriman, Tennessee for parts north.
Our search for the Holy Grail of vests took us to Cabela's, Canadian Tire, Marks Work Warehouse, Wal-Mart and Wholesale Sports – unfortunately to no avail - because their "winter" stock was no longer on display, and the few they did have, were no where near big enough.
But having said that, we did manage to find plenty of other things to buy, including a new reel, some lures and fresh line for James and Henry at Cabela's.
Later that evening, after devouring an entire lobster at the Keg, when checking in on line for my flight to YK, I mentioned to Kenny that I would be sitting in seat 12c.
"Wait just a minute," he replied, "I have 12c!"
At first I thought he was just being Kenny, but when I looked at his ticket, sure enough, it said he was in 12c.
Being the magnanimous sort, I changed my seat to 12d, which put me directly across the aisle from him, thereby hopefully avoiding any issues when we boarded – or so we thought.
July 7
Who the Hell Really Does Have 12c???
I hit the deck bright and early so I could shower before breakfast, but couldn't find any of the soap or body wash I could have sworn were on the vanity the previous evening.
Because Kenny had showered the night before, I thought he may have left them in the shower, but they were nowhere to be found.
It just so happened that his kit bag was on the vanity, and I could see the tops of bottles just peaking out.
What a dick.
When questioned about it, he gave me some lame excuse that had something to do being on a cruise ship. If Kenny, who does a fair amount of cruising, loads up his kit bag with toiletries every time he sails, he was going to need a much bigger bag to carry all of his loot.
My bet is he already has a bigger bag for cruising purposes.
While at breakfast, we were telling Art and Rodney our 12c story, when Art pulled out his boarding pass, which clearly said that HE would be sitting in 12c.
No, I'm not making this up.
I guess we were going to have to let the Westjet agent figure it out when we checked our baggage – which they did - with Art ultimately being assigned the coveted 12c.
Where Do They Keep the Toilet Paper?
Airport security just loves Rodney – although I'm not sure the feeling is mutual.
Over the years, given the amount of gear he brings along, security has had their fun with him, including the time a jerky sniffing Beagle, found the stash of beef jerky he had tucked away in his rod case.
This time around, when checking one of his oversized bags through special handling, the line came to a complete stop once it had been scanned, and the Security Officer then waived him over.
Apparently he had packed several cylinders of Co2 that were destined to be used to fire up his ThermaCELL bug repellant device.
Fortunately Kenny and I had already checked our bags through special handling, so I don't know how it eventually turned out, although I don't recall seeing the aforementioned device being used at any time during the week.
Gate security was very busy, but not busy enough to go through Rodney's substantial carry on bag in its entirety, and run him through the booth that squirts air up your pant leg and wherever else (that's the technical name for it) several times.
Kenny, who was sitting just outside of security watching the show, said that if they had put him in the booth, he would have asked where he could find the toilet paper!
Once all of the fun and games was over, we boarded without any further security checks or other issues arising, so we just kicked back, and enjoyed our flight to YK, with Art firmly ensconced in what else – 12c!
As our quest for the vest was unsuccessful in Edmonton, we gave Weaver & Devour, Wal-Mart and Overlander Sports a shot in YK – but no cigar.
For dinner, and after many years of talking about it, we finally made it to the iconic Wildcat Café.
The reviews amongst our group were somewhat mixed, but those of us who had the Bison burger were in no way disappointed, and in keeping with the restaurants old time prospectors theme, they served draft beer in a large tin cup, which I have to admit was pretty cool.
After dinner James, Henry and I sat out on our balcony at the Coast Fraser until about 2pm, sipping on a few cocktails, enjoying the view, and talking about what we hoped the week ahead would bring.
July 8
And the Weather Is…
Having arrived at the Air Tindi base around 8 am, we had some time to get to know our fellow guests – who, buy the way were all dentists, it being Dental Week at Trophy Lodge – and a couple of guides, including Chris Brekke a Great Bear veteran who was just going in for the week to guide one particular guest.
Chris as it turned out, was a regular font of information, some good, and some not so good.
Kenny sat down beside me, and said that we needed to get to our camping spot at the Katseyedie by Sunday at the latest, because it was going to be very windy on Monday.
Given the fact that the only weather report available – or so I thought - was for Deline, which is about 100 miles away from the lodge, I wondered out loud how he knew what the weather in the Smith Arm was going to be.
Apparently Chris told him.
After tracking Chris down, I asked him how he could possibly know what the weather was going to be, and he pulled a sheet of paper out of his pocket that had of all things, the 7 day forecast for the arm, courtesy of the Norwegian Weather Service:
https://www.yr.no/place/Canada/Northwest_Territories/Smith_Arm/
For that matter, just punch in about any place on Great Bear, including the Katseyedie River, and you will get the weather report!
https://www.yr.no/place/Canada/Northwest_Territories/Katseyedie_River/
So obviously these guys are spying on us for reasons know only to them, because other than our small group – who gives a damn about the weather in the Smith Arm.
Environment Canada - take note.
Chris also told us that he had been to the Katseyedie last year, and the old cabin, where most of the guys were going to be staying had been trashed, and was pretty much unusable – not the best news to say the least.
So, unless there was some additional Intel we could pick up at the lodge that would contradict Chris', it would not make sense to spend all that money to bring the Otter over from the main lodge and fly to the Katseyedie, only to find that the cabin was out of commission.
Crap.
Unlike in years past, there were no stragglers who missed the shuttle because they had a few too many at the Strange Range or Harleys the night before, so wheels up was at 9:45, and the 2 hour flight to the lodge was as smooth as could be.
While we were waiting to take off, we noticed a squadron of somewhat odd looking single engine fire fighting aircraft, which I found out later were called AIR TRACTOR AT802 AMPHIB's. If you happened to stumble across them during your travels and would like to know more about these unique, and very capable aircraft, click on the following link:
http://conair.ca/conair_fleet/air-tractor-at802-amphib
Once we arrived, we were pleased to see that the staff had moved all of the gear we store at the lodge into our rooms, but the really good, and really, really good news was yet to come.
The really good news was that Chuk had sent a crew over to the Katseyedie at the end of last season, and the cabin was now in better shape than it had been for a number of years.
In fact, they even fixed up both the outhouses, thereby in effect giving us a 2 holler. What luxury!
The really, really good news was that the Otter was coming in tomorrow, and the weather was such that the guides could make their run to the Katseyedie later that evening.
But first things first.
Kenny, who missed coming to Bear last year, had been dreaming of nothing but heading over to the Whitefish River as soon as we could put our rods together, and chasing a few Pike around.
So off we went with Josh "Jelly" Gelinas at the helm, but unfortunately the Pike were not as enthusiastic as Kenny, and the fishing was uncharacteristically slow.

While a couple of big gators took a swing at our lures, we only managed to catch about 20, the biggest being just over 30".
Our problem according to Josh was water temperature, because at 72 degrees, it was simply too warm. In fact someone recorded surface temperatures in the high 70's out on Airport Reef that same afternoon.
On the way back, Josh suggested we make a quick stop at the Pike River, and although Kenny was surprisingly less than enthusiastic, it turned out to be the right call.
With water temperatures in the low 60's, it was nothing short of a feeding frenzy, with a fish or hit on virtually every cast, and not only that, the size of the fish exceeded anything we had previously seen on that river.
In just over 2 hours of fishing we caught, and released over 100 Pike, with 15 over 30", and 1 that measured 41"!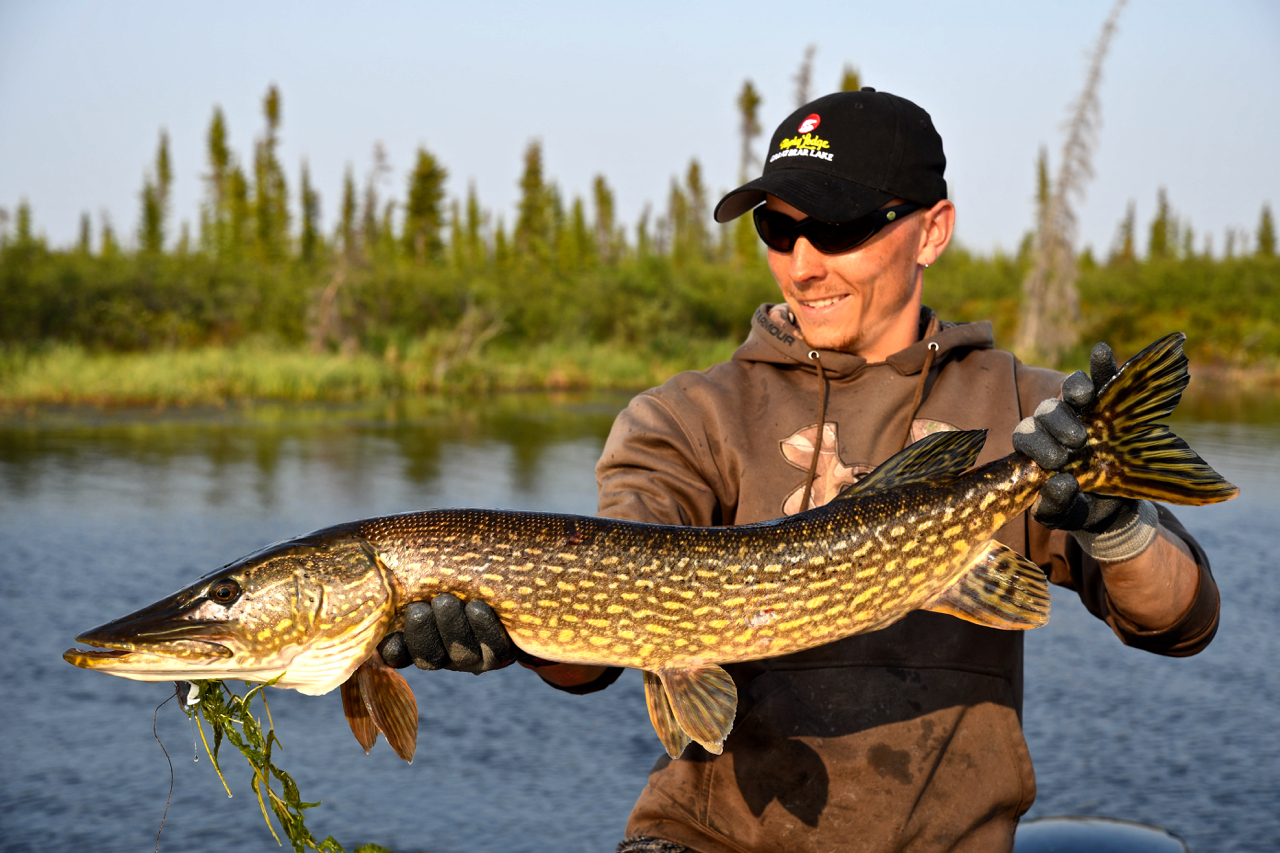 Nice way to start the week off.
While we were away, Rodney pulled our camping gear out of the granary, and gave the lodge manager and chef the list of food and sundries we would need while at the Katseyedie.
We did a final check of the gear later that evening, and everything we would need, with the exception of our deep fryer, was accounted for and ready to go.
Harvey, Justin and Josh left at 10:30pm, and fortunately had a relatively smooth, 4½-hour ride across the arm.
July 9
Have You Tried the Disco Watermelon?
Although we had hoped to be picked up late Wednesday afternoon, there was some confusion about the pick up date and time, with the lodge manager advising us that there was a strong likelihood we would not be picked up until some time on Thursday.
Oh well, if that was the case we had better take along some extra grub, which Rodney dutifully arranged with the chef prior to out departure.
The 25 - minute flight across the arm put us in camp just after 1pm, and on the way over, our pilot gave us a good look at a lone bull Muskox – who we would encounter again later in the week – and a rather large moose.
Before he left, we asked if there was any chance of a 4pm Wednesday pick up. He said he would do his best, but we knew that it would not be his call at the end of the day.
Once we unloaded the Otter, and with everyone pitching in, it didn't take all that long to set up camp, and after scarfing down some sandwiches, we were out on the water by 3:30.
James, Henry, Kenny and I decided to fish home bay – which is about the size of a fairly large lake in it's own right – while Art and Rodney headed off to give the sand flats a shot.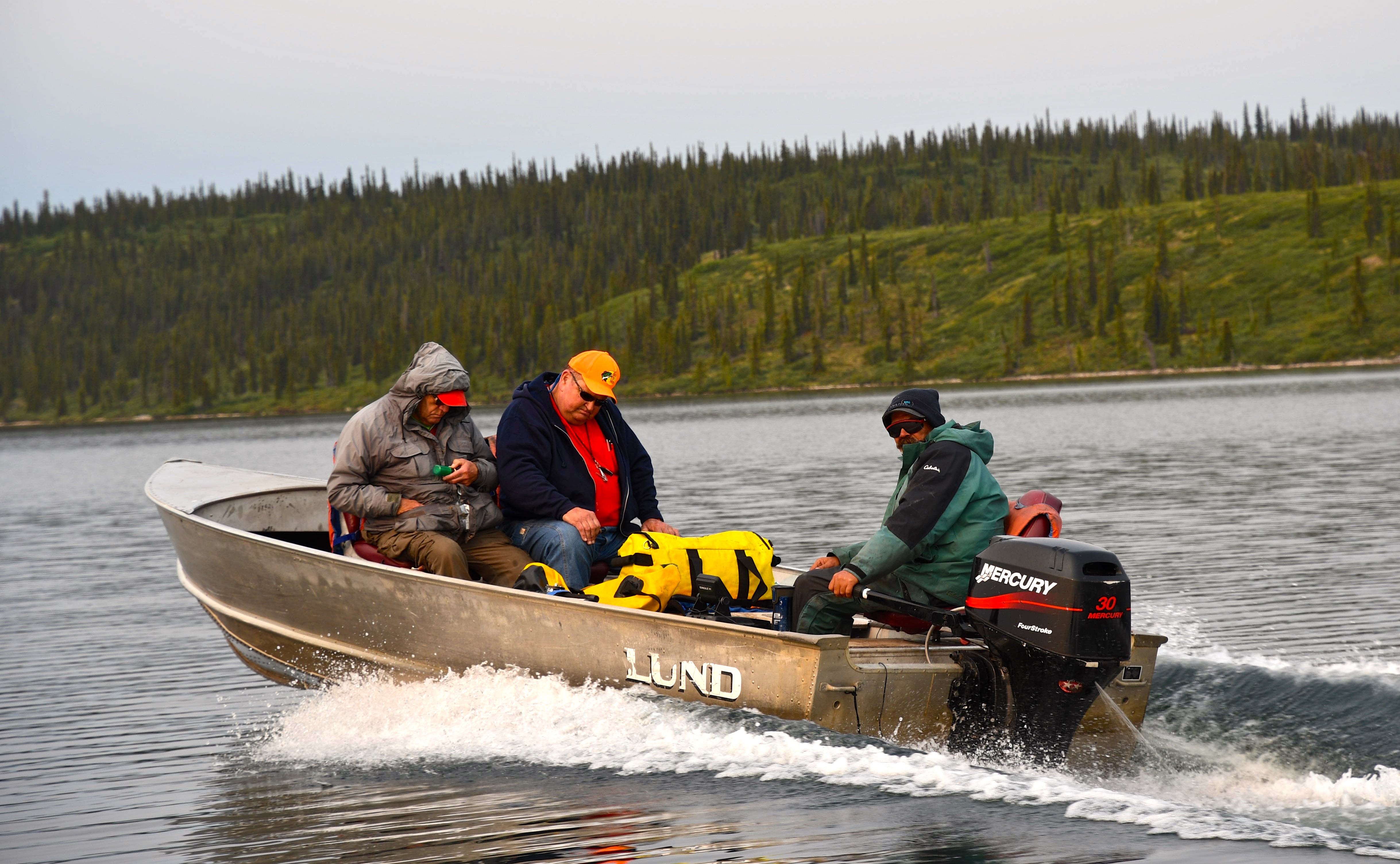 We made one pass tight to shore, starting just east of the camp and trolling west, but unlike past years, including one occasion when we took 5, 20 plus pound fish out of that run, today there was no one home.
We continued on, and just as we came up onto the sand flat that is just west of the camp we, or rather Kenny, caught our first fish, which was a 28 pounder – not a bad start.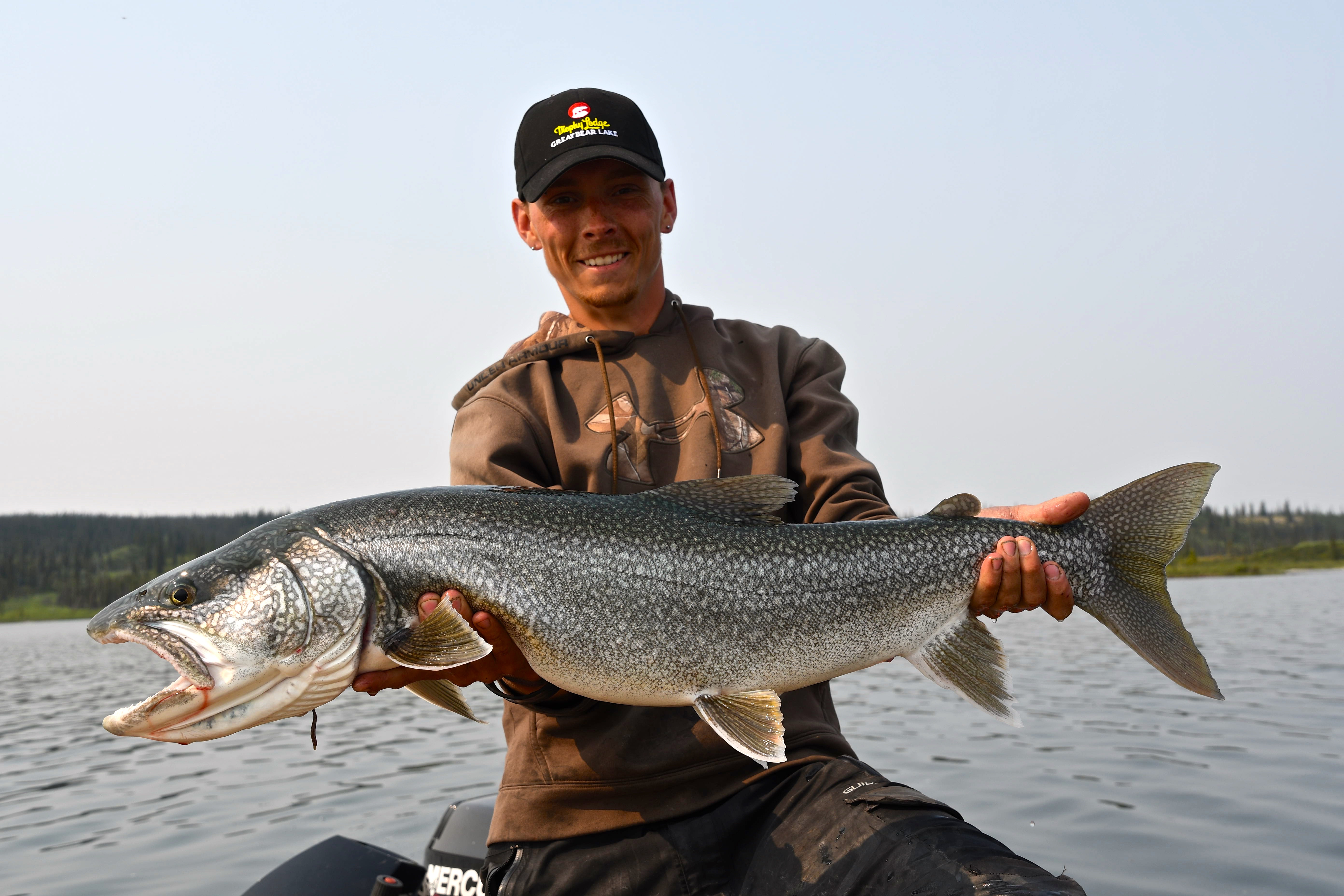 Continuing to work the sand, we picked up another couple of fish, and when it slowed down, started trolling the west shore, towards the open lake.
The last couple of times we were there, that shoreline produced fish after fish, but not today, which at first blush seemed rather odd, but in actual fact the fishing in Katseyedie Bay as we call it, has undergone some significant changes over the past 10 years, so it really didn't come as a complete surprise.
For example, the mouth of the river was at one time automatic for all of the 5 to 10 pound trout you would care to catch, but now there are NO trout whatsoever in the river.
I really don't know if they simply moved out into cooler water, which perhaps explains why we caught loads of fish in other parts of the bay, but in the past the only area we really fished was the river mouth – so who knows?
We were keeping an eye on the water temperatures, and while it was 52 degrees on top of the sand, once we moved over to the west shore, a distance of less than 100 yards, the temperature dropped 10 degrees.
Having caught only a couple of small fish, we then headed over to the east shore, just south of the point where someone had set up a campsite, (there was a dispute about whether it belonged to the folks from Deline or the Department of Fisheries and Oceans) and the water temperature dropped another 5 degrees to 37.
Not having much luck in the shallows Josh, who had marked some big fish between 30 and 40 ft., suggested we put on some weight, and give the deeper water a try.
We did for about an hour, but only came up with a couple of bumps, and 2 small fish.
While working our way back into the bay, Kenny became very exited, and began pointing to what he thought were large schools of trout swimming beside our boat.
As it turned out, they were not trout, but very large Whitefish, not unlike the ones we used to see in the Katseyedie River, and Kenny was bound and determined he was going to catch one.
As most of you probably know, when it comes to catching them, the smaller the bait the better, but unfortunately he didn't bring along either his Grayling rod or lures, so I lent him a ¼ oz. spinner, and we all – maybe not Kenny so much – had a good laugh watching him try and cast that spinner using a heavy trolling rod, spooled with 30ib. test.
Needless to say, the Whitefish had nothing to worry about.
Art and Rodney returned from the sand flats, where the surface temperature was a decent 52 degrees, and while they managed to catch 19 fish, the biggest was in the mid teens.
Our total for the day was 10 fish, and Henry and James caught loads of small trout, together with some nice Grayling, including a 19" for James.
While it was a very slow day for this particular area, the weather was perfect, and everyone agreed it was a pretty good start overall.
That evening we dinned on grilled, grass fed ribeye's, together with pan-fried trout, lightly coated in a Cajun seasoning.
And speaking of Cajun seasoning – well not really - I almost forgot to mention the story behind the title of this chapter.
Josh, who has a rather impressive collection of Flatfish and spoons, pulled out an assortment of new colours that neither Kenny nor I had ever seen before, and believe you me, if we didn't have one in our tackle bag, then the paint on them must have still been wet.
Someone who had, and perhaps still does guide on Great Bear, designed these colours patterns, with both the Eppinger and Flatfish people liking them so much; they put them into production – including a Flatfish aptly named the Disco Watermelon - although the actual trade name may be the Glitter or California Watermelon.
I did give it a try, but there was another T60 I commandeered from Josh that turned out to my go to plug for the week – the infamous "Black Yellow Silver Flake."
It appears they no longer make this colour in a T60, or even a T55 – so I'm glad I didn't loose what may now be a collector's item.
July 10
Damn Those Norwegians!
While coming to a consensus in terms of where to fish can at times be a challenge, this morning we were all of a like mind, and decided to head off in the direction of Tripod.
Everyone woke up refreshed and ready to go, especially Rodney, whose snoring prowess is legendary.
Rumour has it that if there had been any dust up in the rafters of the old cabin, they were now completely dust free.
After breakfast, and before heading out for the day, I decided to fire up the drone and take some aerial shots of our campsite and the surrounding area.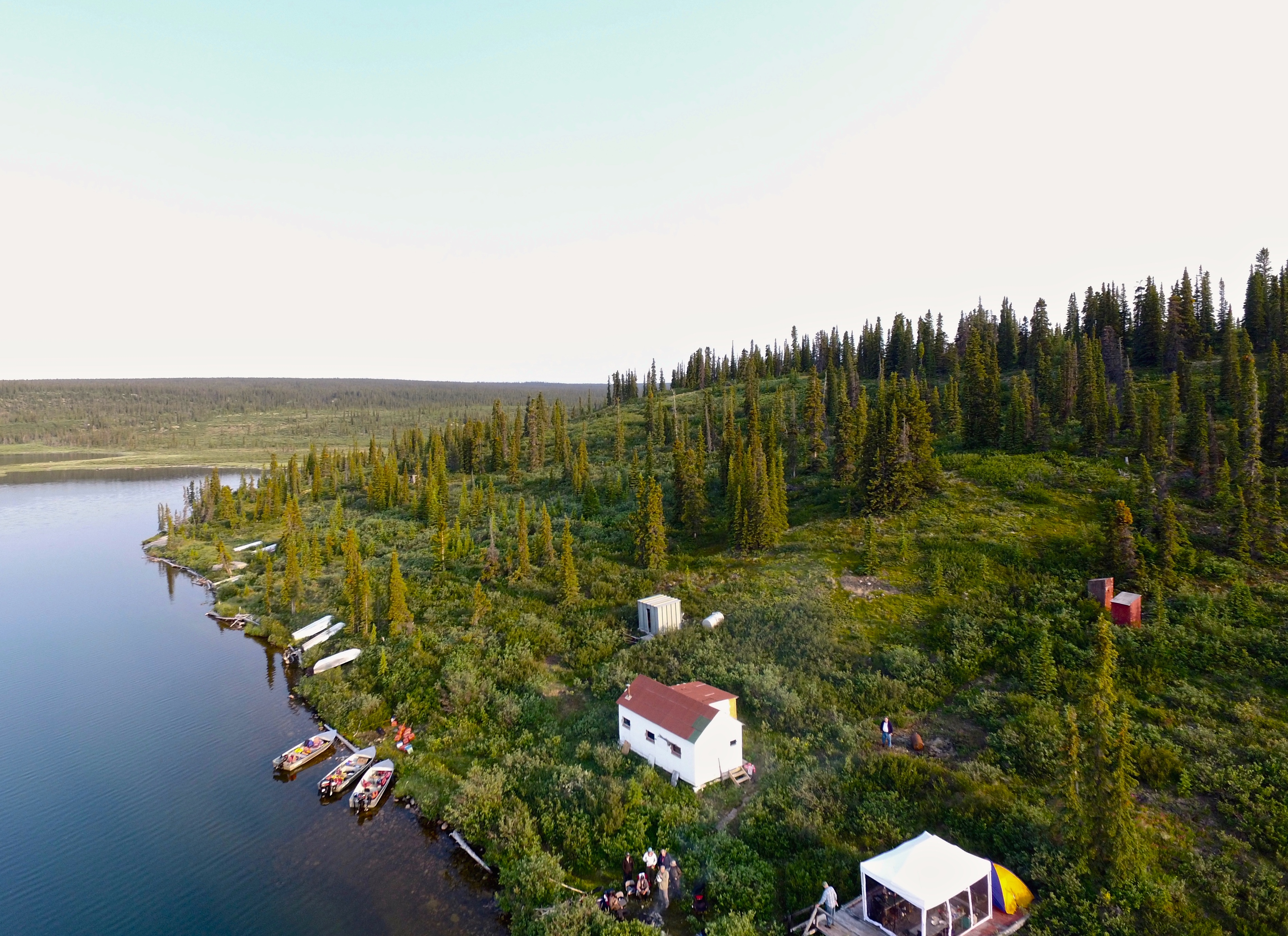 I had a little difficulty calibrating the compass, but after my second attempt, we appeared to be green to go.
One of the problems with this particular type of drone is that you must use an iPad to monitor the control systems, which is virtually impossible to see when there is any sunlight whatsoever, so therefore having a visual of the drone at all times is critical.
In any event, up it went and I shot a few stills together with some video, but when looking down at the screen in order to switch photographic modes, I lost sight of the damn thing.
No worries, I engaged the "return to home" button, and it started to make its way back, but as the drone began to descend, it appeared to be headed into a clump of bushes a few feet from where we expected it to land.
Unfortunately, before I could regain control, it landed in the bushes, but other than a few grass stains, luckily it was no worse for wear.
So enough with the aerobatics for now – it was time to get down to some fishing!
While the bay was calm, once we turned the corner onto the main lake, there was a light wind blowing into shore, which fortunately did not impede our progress in any way.
Our first stop was "Kevin's Creek," the legendary spot where Kevin Adwell, Rodney's nephew, caught his 70 - pounder several years ago.
Other than one small red-fin, there was not much doing, so we continued heading west towards Tripod, stopping from time to time to fish a few shoals along the way.
The good news was that not only did we have an onshore breeze, together with what Paul Barta would call a Lake Trout chop, the water temperatures in the shallows (6 to 20 feet) were perfect, being in the 48 to 52 degree range.
Given the water temperatures we had encountered on the south shore of the arm, we were not sure if we could in fact fish the shallows – which is our preference – or would be forced to break out the lead.
To say that it was a fantastic day would be damning it with faint praise.
The fish were scattered throughout the area, and for the most part were caught in nothing more than 8 to 10 feet of water – and man were they hungry.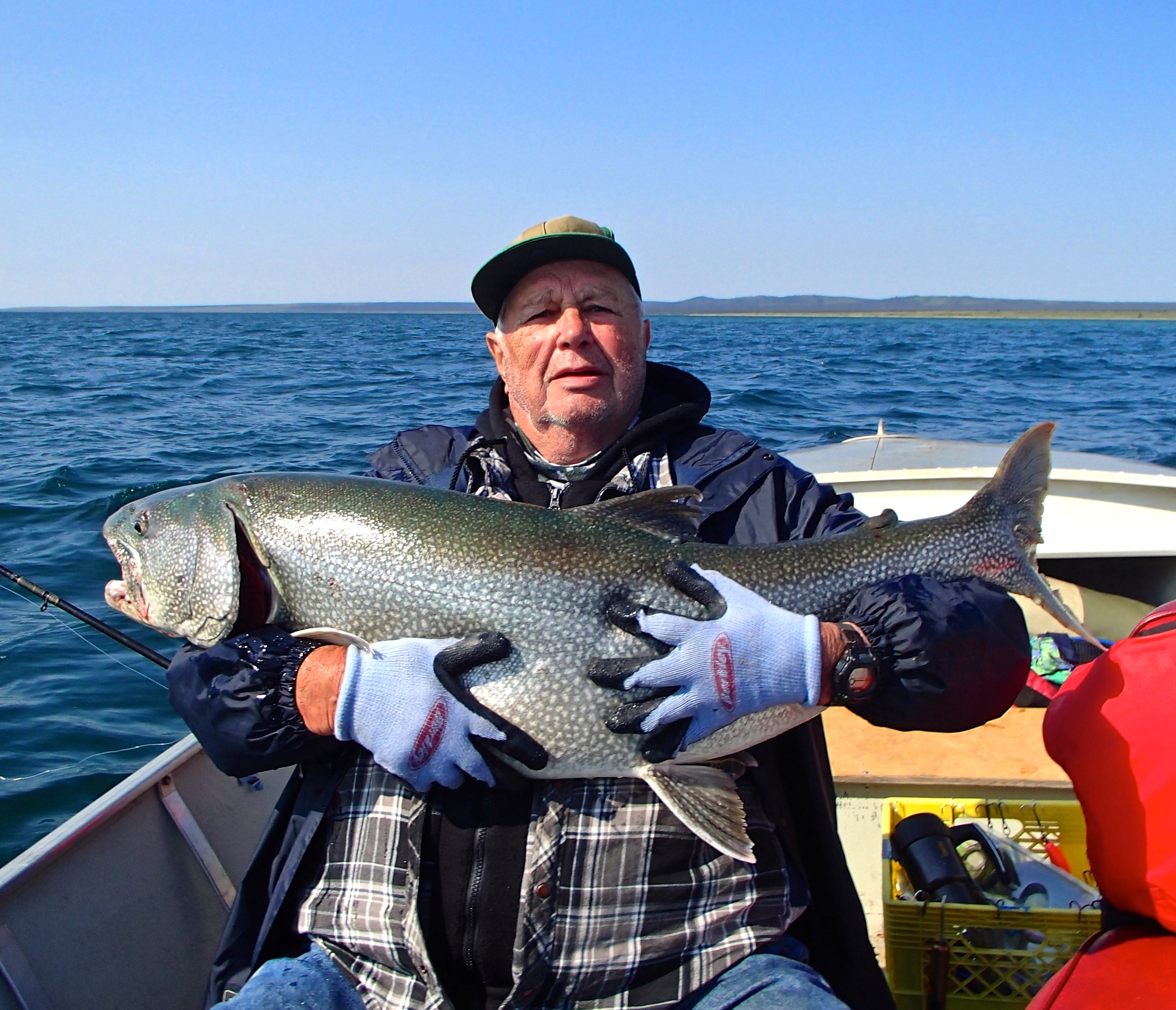 The wind, which had freshened considerably throughout the day, was obviously blowing in the baitfish, and we had trout coughing up not only Cisco's, but also Burbot and Sculpin fry as well!
In addition to countless fish in the low to high teens, we caught the following "trophies":
Me: 46, 26 & 22
Kenny: 25, 23, 22, 21 & 20
Henry: 40 & 22
Art: 24 & 20
Henry & James: a 40 pound double header (2 - 20 pound fish)
As mentioned, the breeze had been freshening throughout the day, and by late afternoon the lake began to rock, so knowing it was going to be a slow ride back, given some of the 6 footers that were rolling in, we took off for home.
I guess those damn Norwegians were right about the wind after all.
All and all the ride back was not too bad, and that evening we enjoyed a good 'ol Tennessee fry up consisting of fried chicken, fried fish, fried hush puppies – and yes – French fries.
One thing I can say about consuming all of that fried food is that it really shortened everyone's visits to the outhouse!
July 11
Calling Dr. Gold – Shampoo Clean Up on Aisle 7
Although the morning was overcast, there was not a breath of wind in the bay, and out on the main lake, as we made the 20 plus mile run to McGill Bay, there were only some small, gentle rollers, that made for a very smooth trip.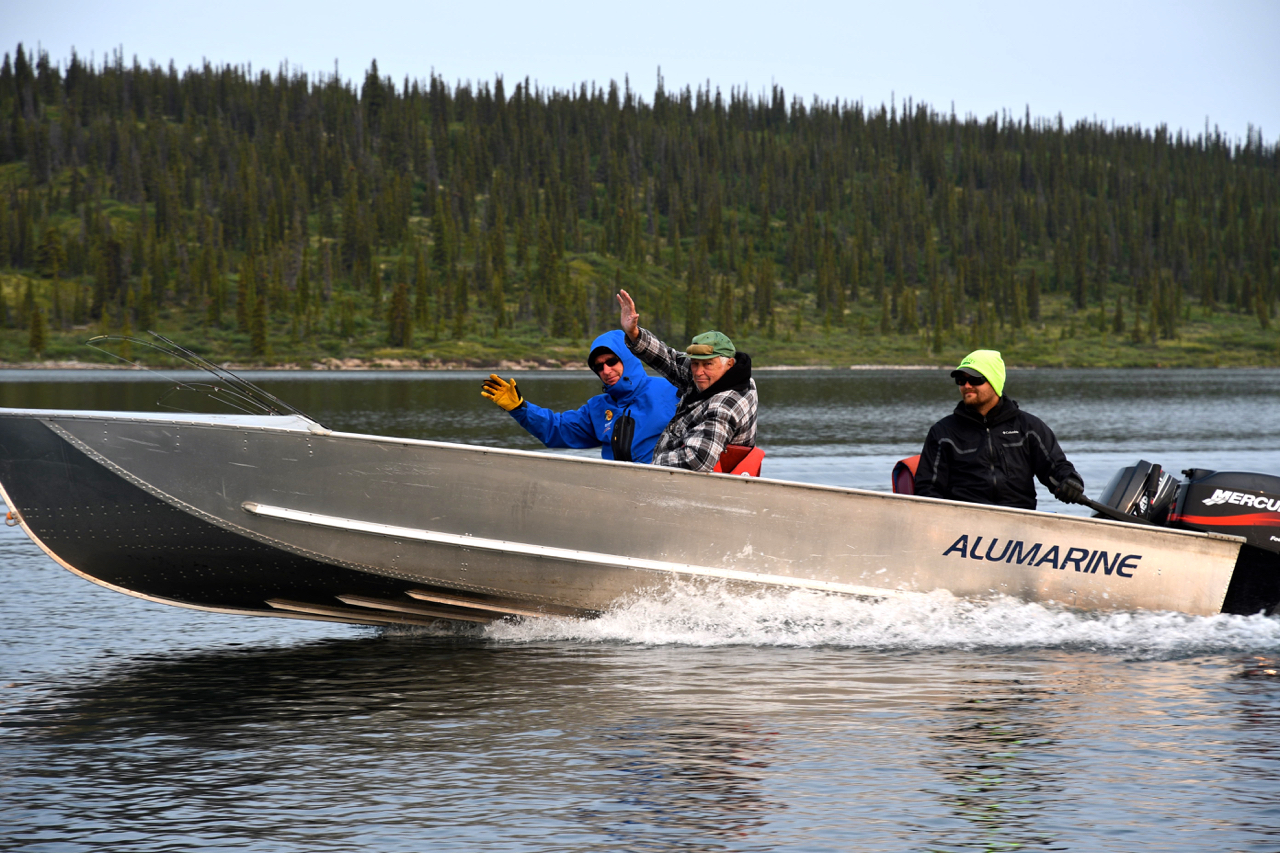 Today, Chef Rodney informed us, that everyone was now on egg rations. Why you may ask?
Well, it turns out there was a bit of a mix up when putting our grub together at the main lodge. We had originally ordered 5 dozen eggs in anticipation of a 3 day trip, but when informed we would likely be staying a 4th day, Rodney asked for another dozen and a half.
To make a long story short, the dozen and one half made it, and the remaining 5 - dozen were missing in action. It was really no big deal, because we had plenty of everything else, including loads of bacon, sausage and bread.
And speaking of staying an extra day, James and Josh, who had InReach communication devices, had been in touch with both Trophy and Chuk at the main lodge, and were able to confirm that we would be picked up Thursday morning at 8:30am.
A late day pick up would have worked better, thereby giving us time to break camp and do a little fishing but - c'est la vie.
While the fishing started out rather slow, it picked up mid- morning, and we were all catching on top of the shoal the runs parallel to shore along the western entrance to the bay.
Josh, Kenny and I even tried the small islands at the eastern entrance to the bay, where I managed to catch several small red-fins on a streamer fly.
It was loads of fun, and if you ever have the opportunity, catching Lake Trout on a fly, regardless of their size, is an experience you likely won't soon forget.
In the early afternoon, Kenny caught what turned out to be a 14 pounder, and while trying to release it at the boat, one of the hooks on the back treble of his Flatfish, went completely through Josh's finger.
What made it worse was the damn fish was struggling to get away, and each time it shook, you could probably here him howl at the main lodge.
Using the net, Kenny and Josh finally got the fish into the boat, and Kenny managed to confer last rights, with our weigh scale doubling as a "priest." Once he had done that, I managed to pry open the split ring, and remove the hook from the Flatfish.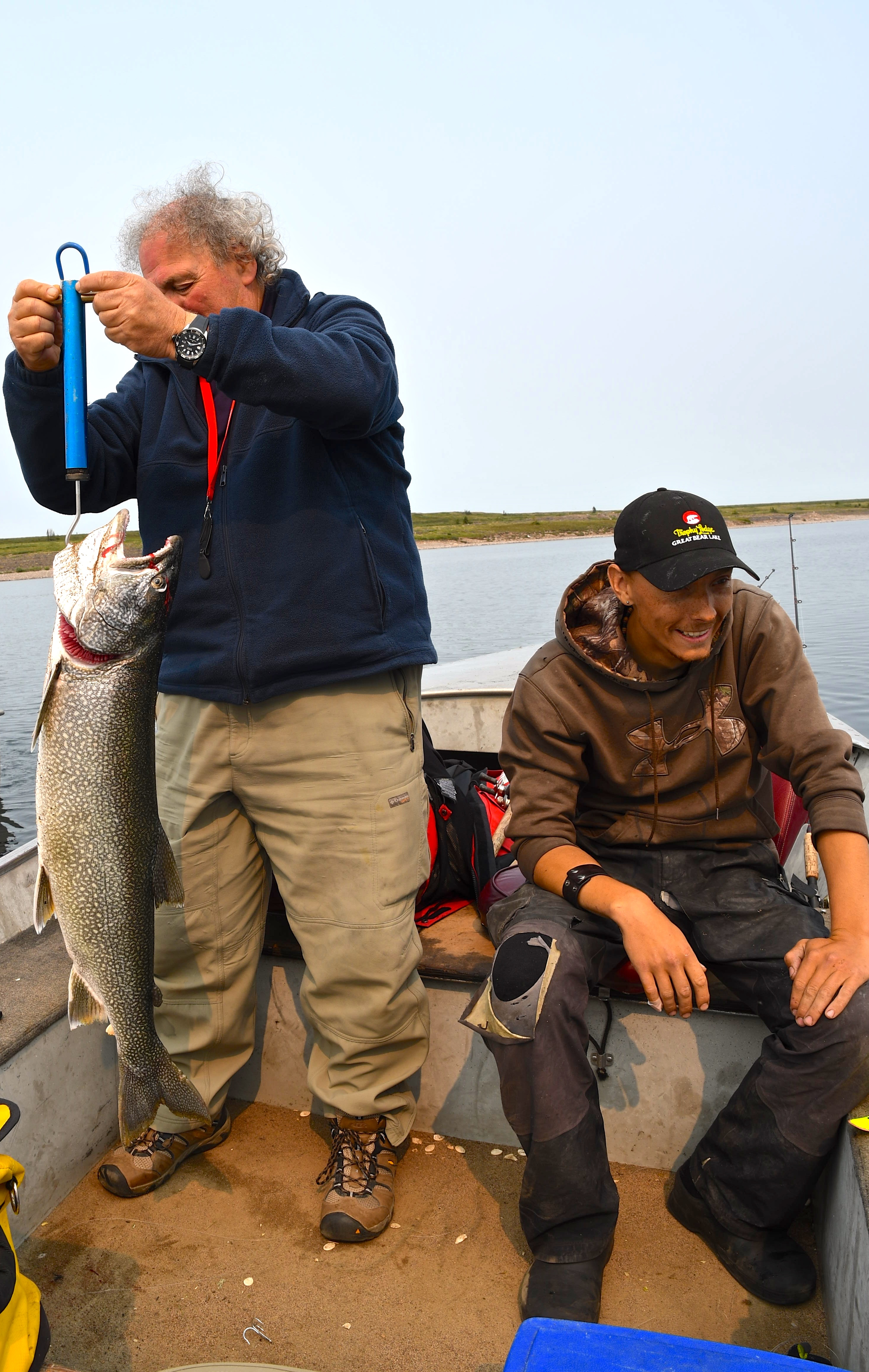 In addition, it turns out that Josh, while having no problem with the sight of blood generally, but unfortunately did not have an affinity for seeing his own, so once the hook was off the Flatfish, he hurled over the side of the boat a couple of times – rationed eggs included.
As luck would have it, we didn't have any cutters in our boat to remove the tip of the hook and barb, so we radioed over to Art and Rodney, figuring that if anyone had some it would be Rodney, and as it turned out – he did.
It was now time for Dr. Gold, to relinquish his duties as high executioner, and bring his medical skills to bear.
After cutting the barbed end off the hook, he gently removed it from Josh's finger, and then applied some Polysporin together with a band -aid.
Being a little worse for wear, although feeling much better at this point, we told Josh he was taking the rest of the day off, and I drove the boat back to camp – which was my very first time in the pilots seat for any length of time.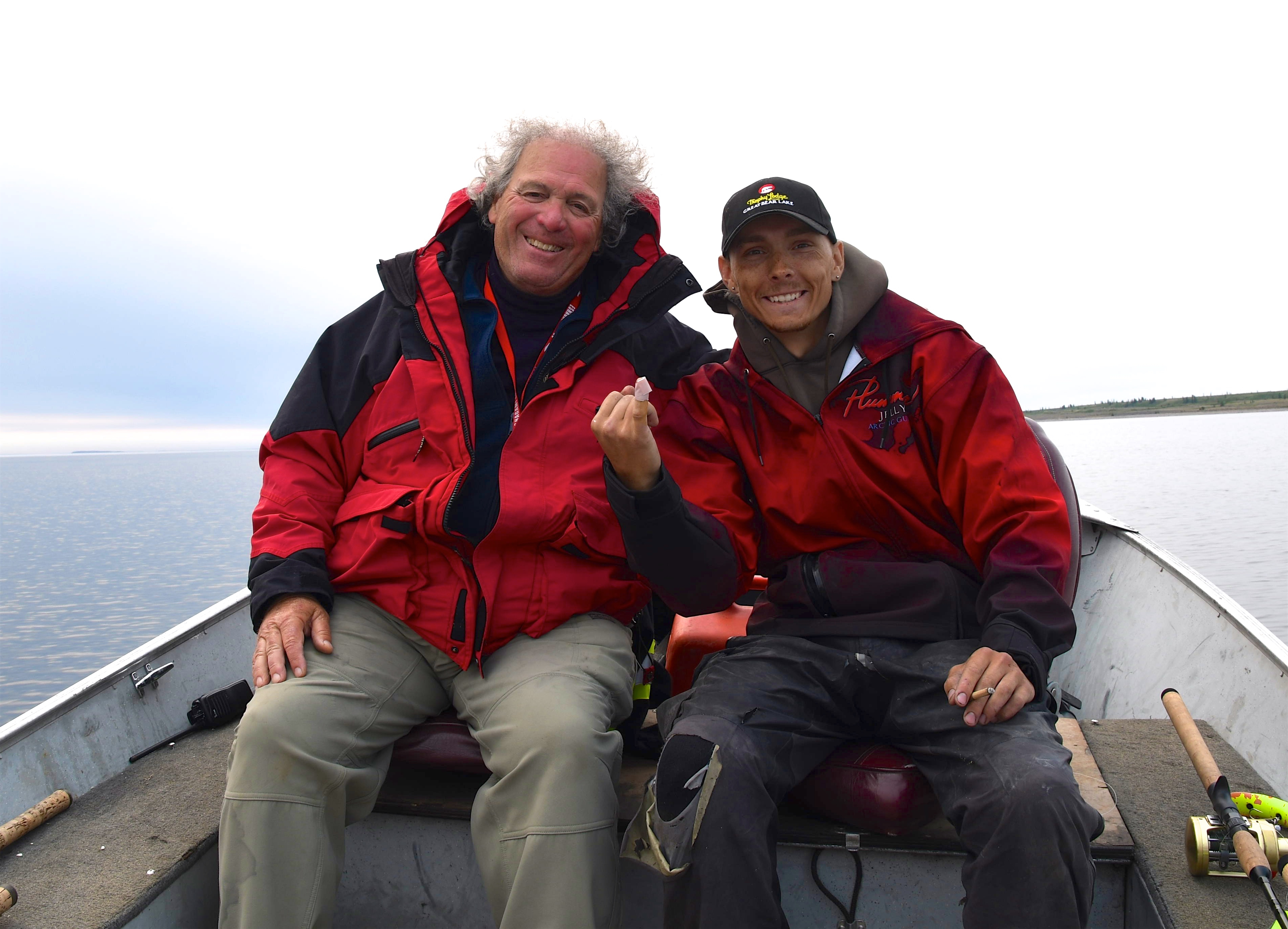 Josh, if you're reading this, the pain you felt out in the boat that day will pale by comparison to that you will experience once you receive Kenny's bill for medical services, and mine for the taxi ride.
I'm pleased to say, that there were no complications arising out of his injury, and he was as right as rain, and back guiding the next day.
The guys stayed in McGill for a while longer, but when it slowed down later that afternoon, they headed over to the sand flats.
Water temperatures on the flats were surprisingly good, given all the sunshine over the last few days, and Henry took it to another level by catching a 48 pounder!
It was another good day with loads of fish, including the following in the "trophy" category:
Me: 28
Kenny: 25
Henry: 48, 32, 25, 22, 20 & 20
James: 22
Art: 25, 22, 20 & 20
Rodney: 23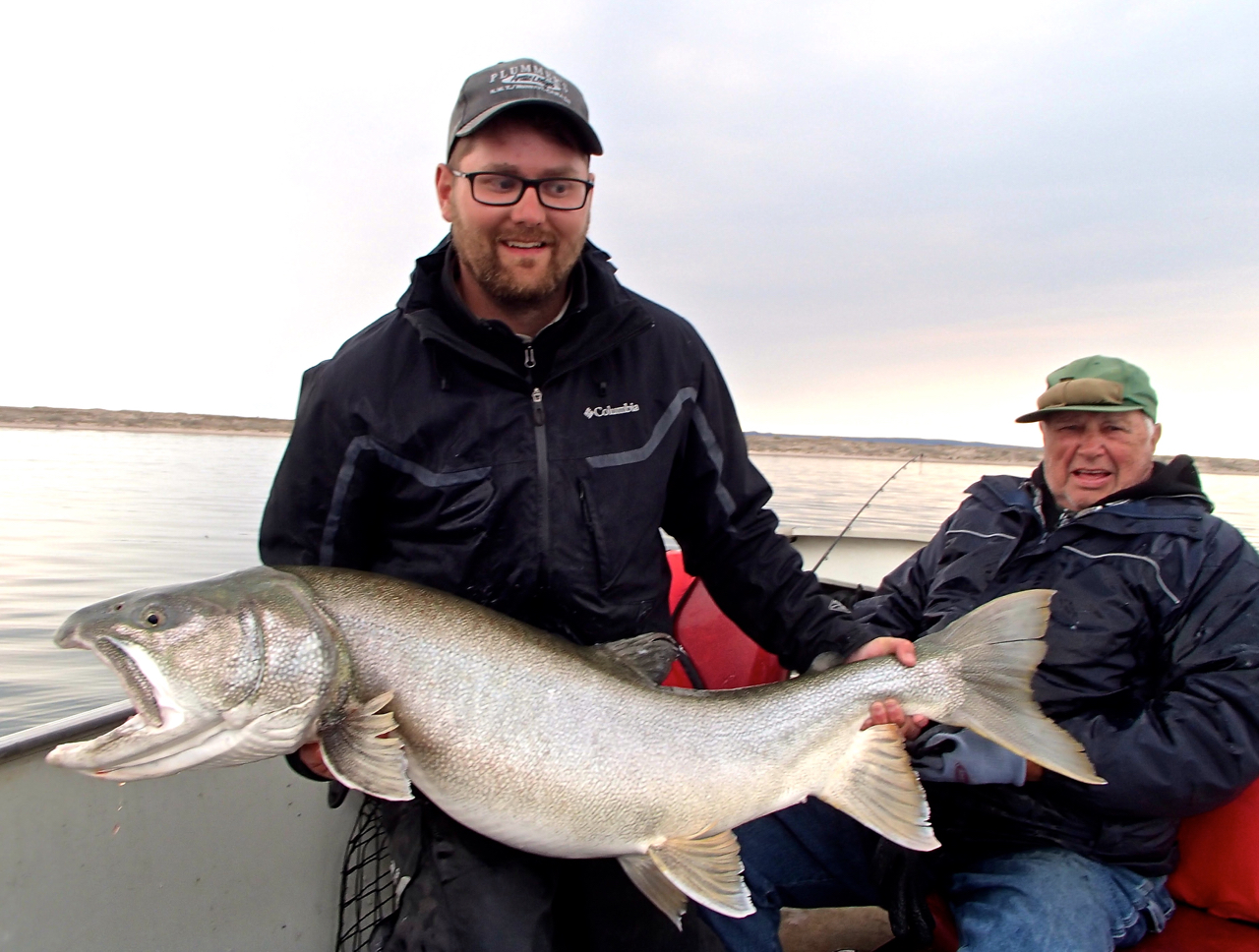 Not unlike yesterday, the majority of our fish were caught in 8 to 10 feet of water.
Given his totals over the past couple of days, to say that Henry was kicking his son's ass would be something of an understatement.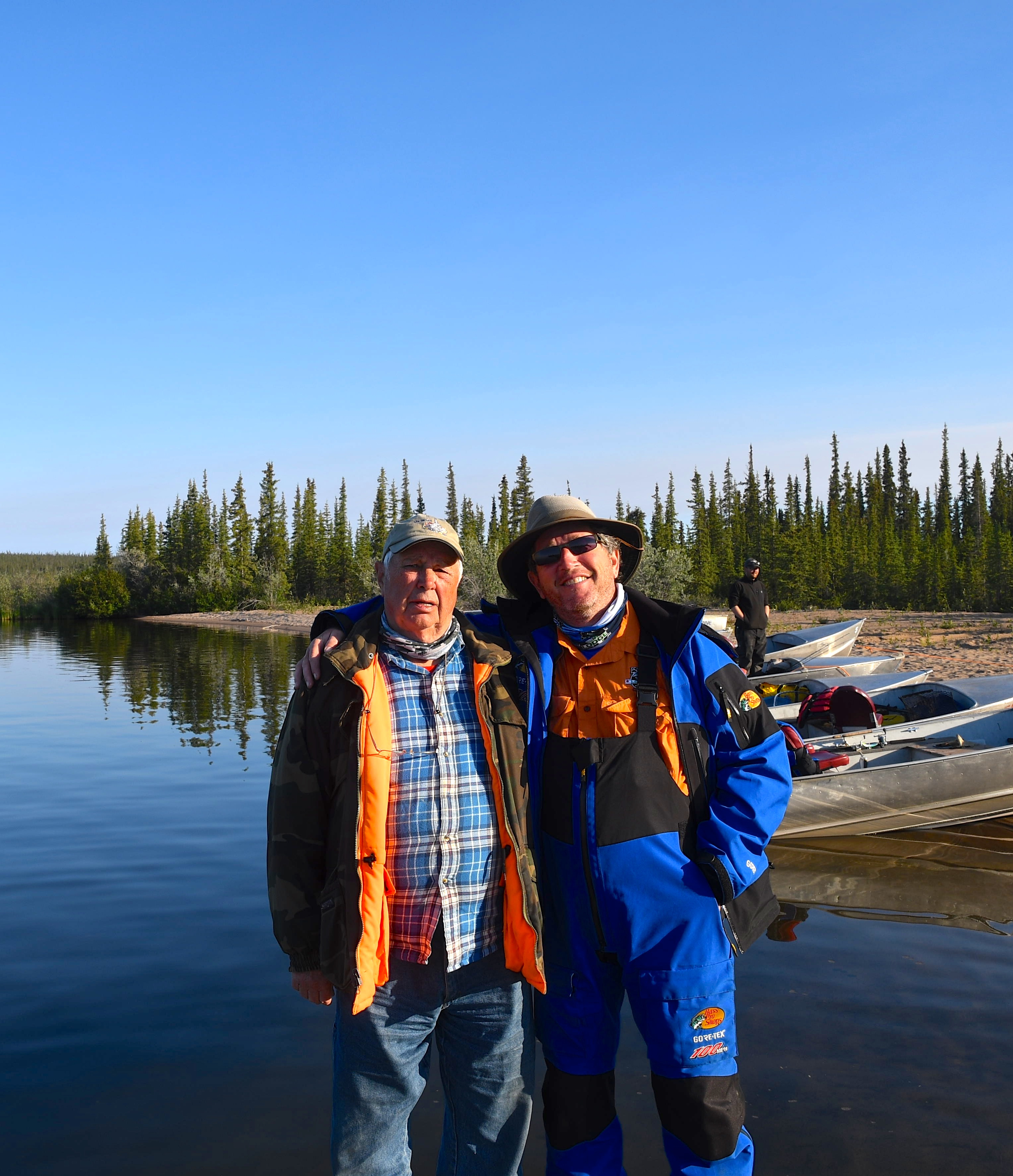 That evening, together with some pork loin steaks, we enjoyed the 14 - pounder that was the cause of Josh's misfortune, and I don't think he ever ate a sweeter tasting fish.
July 12
Officer, I Swear I Didn't See the Stop Sign!
We had some rain overnight, so everything, including a little corner of my tent was somewhat damp.
The guides, who had sat out by the campfire after we called it a night, watched the storm come in, complete with thunder, and several lightening strikes to the west.
Apparently the main lake and the lodge got slammed with high winds and rain, but fortunately, we only got hit with the rain, having been safely tucked away in our little bay.
It took a bit longer than the previous day to come up with our plan for the day, but 2 out of 3 boats were inclined to head back to Tripod, and in keeping with our agreement to stay together, that's where we went.
It was calm and sunny yet again, with several flocks of water birds, including Common Loons, Swans and Surf Scoters, scattered across the bay.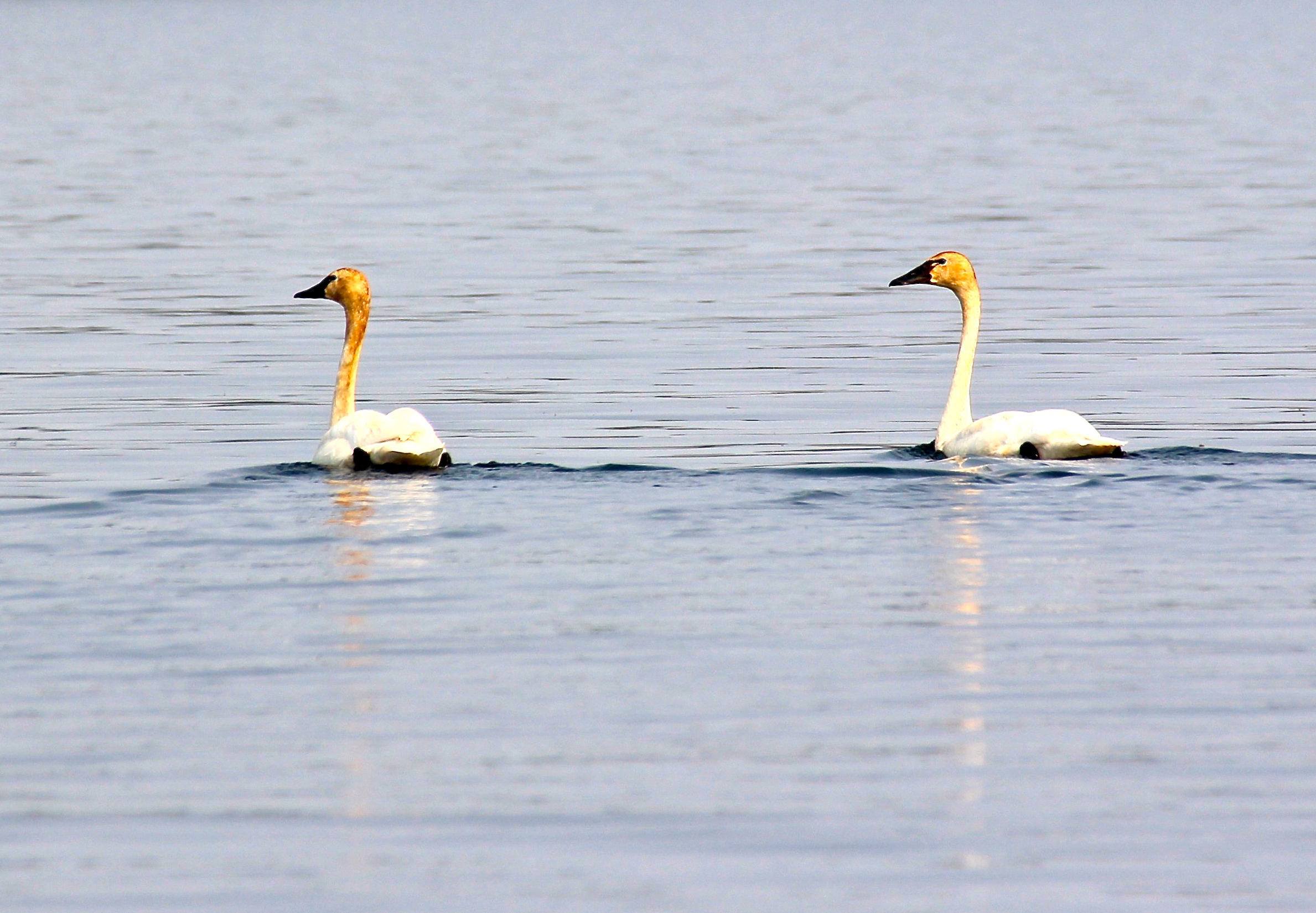 Kenny and I were chatting away, and while it seemed as though the trip was taking inordinately long – notwithstanding the fact we had the slowest boat – we were just enjoying the ride, but when we stopped, it became apparent that Josh had blown right past Tripod Point by a considerable distance.
Once I got my bearings, it became clear that we were just east of "Fenway," opposite a small river. It suddenly dawned on me that I had been in the same area many years ago, along with Bob Resnick and Andrew Flood.
Rezzy and I had been fishing "Fenway," when we came across the same small, unnamed river just east of the "Fen's." In fact, I caught a big Whitefish in that very river.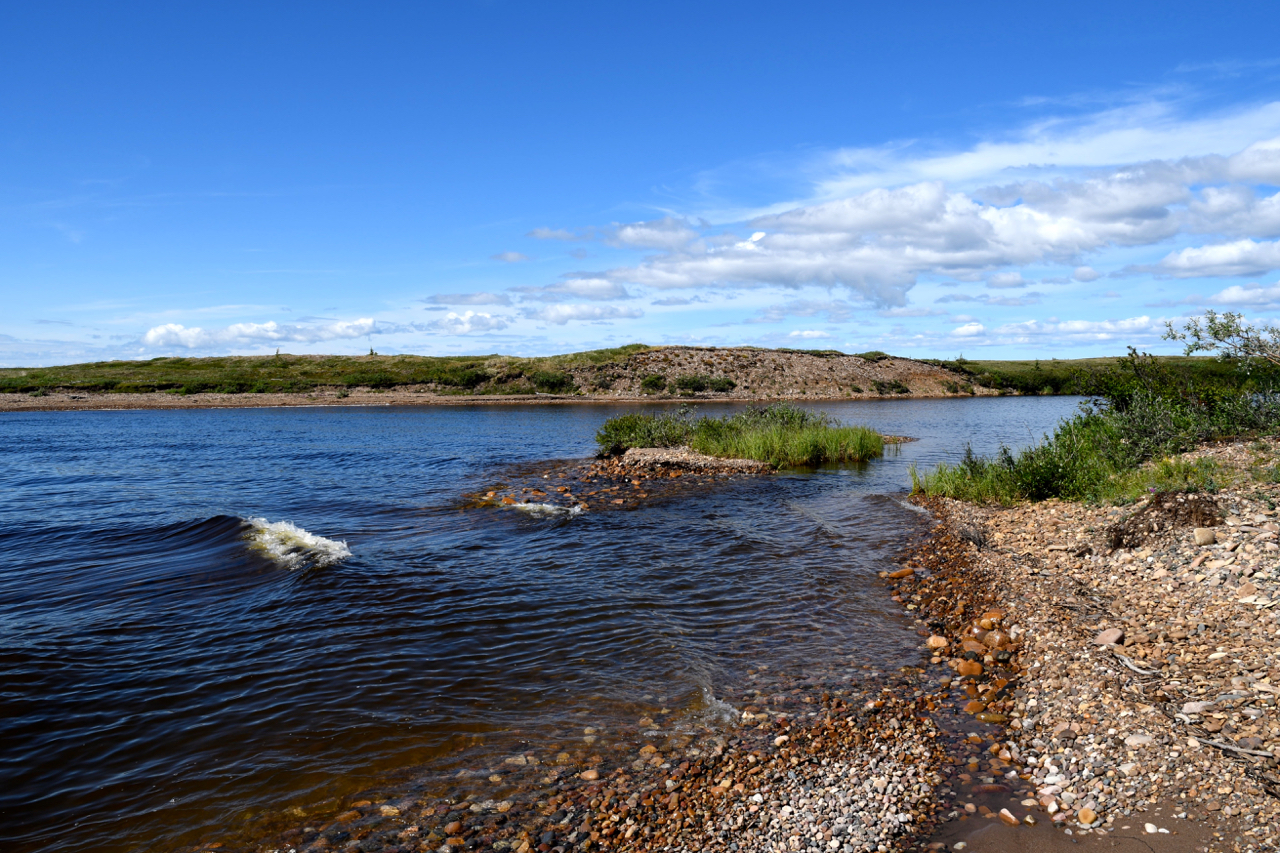 In Kenny's world, a river invariably means Pike.
It was an itch that was definitely in need of scratching, so being unable to get the boat into the river, we pulled into shore so he could do a bit of casting. He had a couple of followers, and was rewarded with 2 small Pike for his efforts.
As all rivers deserve a name of some kind, I officially christened it the "Goldy" river in honour of both Mr. Gold and Jelly.
Earlier, just as we started to fish, Art radioed over and asked if we were trolling for Muskox. At first we didn't know what he was on about, but looking up, there was what appeared to be the same lone bull we had spotted from the Otter the other day, ambling along without a care in the world.
After taking a few pictures from the boat, I hopped on shore and got up close and personal with my new - found friend.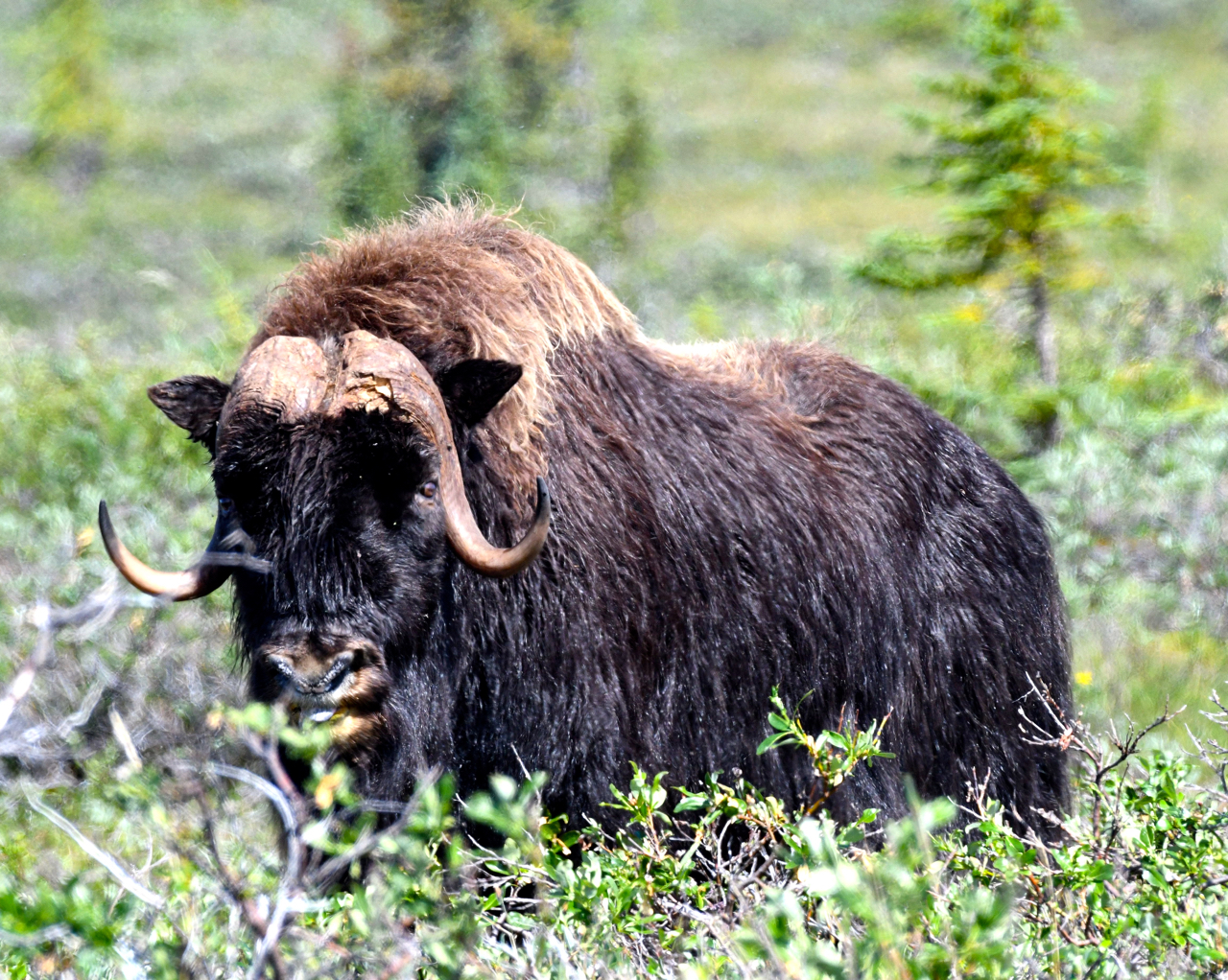 Although I was within 25 feet of him, he could have cared less, and kept munching away while I snapped away.
Unfortunately the storm had really churned up the water. It was crystal clear during our previous visit, but was now a milky colour, and it definitely had its effect on the fishing.
My first 2 fish were an 18 and 23 pounder, but it was somewhat down hill from there, and while we all caught, the only other "trophy" was a 20 courtesy of Henry, that he took out of home bay after we had returned from Tripod.
And speaking of home bay, it turns out the trout had moved a little further back towards the river, so all you had to do was fish the area just outside of what we call Driftwood Bay, and it was pretty much a fish on every pass.
We also fished the bay before going in, and decided to try the deep water again, and while Jelly saw loads of fish on the sonar, some of them really big ones, we only managed 2 VERY small trout.
There was a bit of confusion regarding who would be bringing in the fish for dinner, with the result that we were one short. No problem, James and I jumped into the boat with Jelly, and in a matter of minutes had our second fish.
We would have returned even sooner, had the first fish James caught not been a 16 – pounder.
After dinner, we partially broke camp in anticipation of our 8:45 pick up the following morning.
July 13
Up, Up and Far Away!
After a quick bite to eat, we finished packing, and then swept out, and buttoned up the cabin.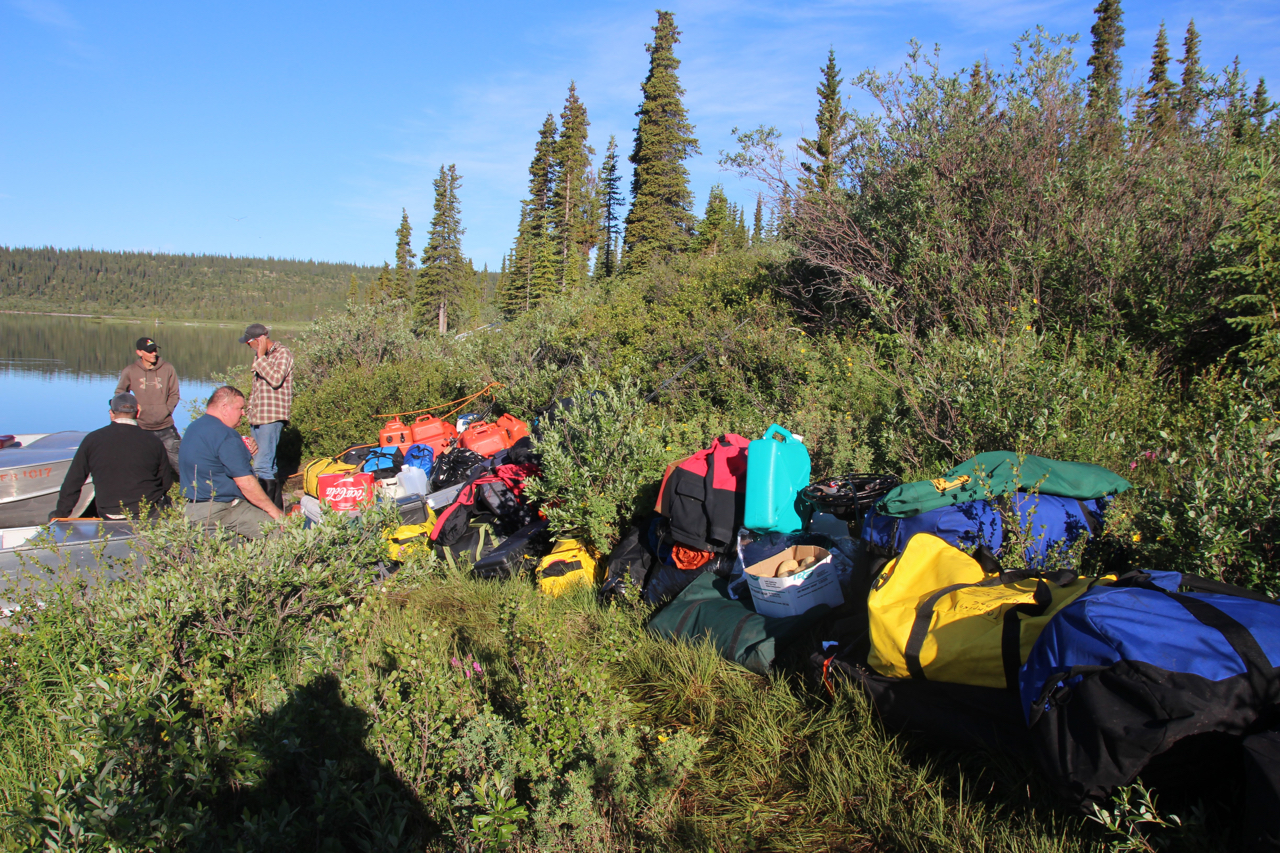 Our plane was a bit late in getting there, but had us back to the lodge a by 11am, and based on what we saw while flying over the lake, the guys should, and as it turned out did, have a smooth 4 hour ride home.
Although there would likely be no fishing today, it felt great to have a hot shower, and stretch out on a real bed.
After having a bite of lunch, it was time to take the drone out for a spin, and shoot some aerial video and stills of the lodge, so together with co-pilot James, we got everything set up on the main dock.
Once the drone was fired up, I calibrated the compass, and when the screen read green to go, we lifted off, only to have the bloody thing take off in the general direction of Deline.
What the hell!
I used the control sticks to fly it back towards the dock, but as soon as I released them, rather than hover, it took off again.
There were a couple of warnings that popped up on the screen, and although they were barely legible, James and I could see that one of them said something about being in an airport area.
To call the dirt and grass runway at Trophy an airport was something of a stretch, but there was perhaps some sort of signal coming from the big antenna in front of the lodge that was messing with the drone.
In any event, I hit the return home button, and back it came, but not unlike the situation at the Katseyedie, it appeared destined to land, not where it should have, but in the water!
I heard James whisper, "better sand than water," and was able to regain partial control, and put it down on the sand, about 50 feet from where it was supposed to land.
Undaunted – which can be another word for stupid – I rebooted both the drone and the controller, recalibrated the compass, and immediately after lift off, away it went towards Deline once again.
So, enough of this crap already.
I hit the return to home button, and when it got back over land, put it down on the sand, and then packed it away.
The plan was to take it out to the Naiju River the following day, which is about 20 miles away from the Trophy Lodge "airport," where hopefully it would decide not to take off for parts unknown yet again.
This evening was "wine and cheese" at the lodge, which featured – you guessed it – wine and cheese, together with pitchers of Bloody Caesar's, smoked Grayling (it was excellent), BBQ ribs, and a variety of salads and appetizers.
Just before the food and drinks were served, one of the dentists, Terry Witzu came in with an ear-to-ear grin, because he had just caught a 60 pounder in the gap, which is about a 5-minute boat ride from the lodge.
It's the perfect fish story.
Last year he and his guide – "li'l Chris" - had hooked, and lost a very big fish in essentially the same place, and marked the spot on the GPS. So while heading back to the lodge at the end of the day, they decided to punch in the waypoint and take one more pass – and the rest is history!
Was it the same fish? Maybe yes, maybe no, but some studies have shown that the trout in this lake can be somewhat territorial. I once caught a tagged fish that was first tagged almost 10 years to the day in essentially the same location – so who knows?
A good time was had by all, and we called it an early night in order to be ready to hit the deck running, for what would sadly be our last day of fishing.
The only incident that occurred to mare the festivities is when Josh informed me that the cooler of ingredients I brought him from YK - including the damn avocados - he had been planning to transform into a shore lunch extraordinaire, had gone missing.
The cooler was clearly labeled with his name, and was placed in a particular spot in the walk-in, with instructions being issued to the guides and staff, that it was off limits.
Josh, the Chef and Manager searched high and low, and the only explanations that made any sense, were that either someone was just pulling Josh's chain and it would turn up shortly, or that one of the 2 boats that went camping, to Ikanyo, and Ekka Islands, had grabbed it by mistake – ya right.
Sure enough, one of the boats that went camping had taken it, with the result that all of the fresh ingredients were ruined, and while they left most of the contents alone, they did use some of our Parmesan cheese.
What really pisses me off about the whole affair is that there was no apology, or even an acknowledgement that they screwed up either from either the guide or his guest.
July 14
Please Keep Your Hands and Arms Inside the Car at All Times!
It was another perfect day on Great Bear Lake. Not a cloud to be seen, nor a ripple on the water.
After 4 straight days of nothing but trout fishing, today was going to be alternative species day for Kenny I, which would consist of some Pike fishing in the Naiju River, and hunting down some Grayling along the shore between the river and Second Light.
We also planned to have a group shore lunch, that would feature some traditional fare, together with what Josh planned to whip up, now that he most of his formerly missing ingredients back.
I'm not exaggerating when I say that there must have been 1 Pike for every 3 square feet of river, because it was virtually a fish on every cast. Not only that, in some instances there would be 2 or 3 of the toothy critters pushing each other out of the way to get at the lure.
It was insane, and if you happened to get the urge to stick your hands into the water for some stupid reason – that would have been a very bad idea.
Henry and James were fishing a little further up river from us, and I would hazard to guess that between our 2 boats we caught at least 150 before breaking for lunch.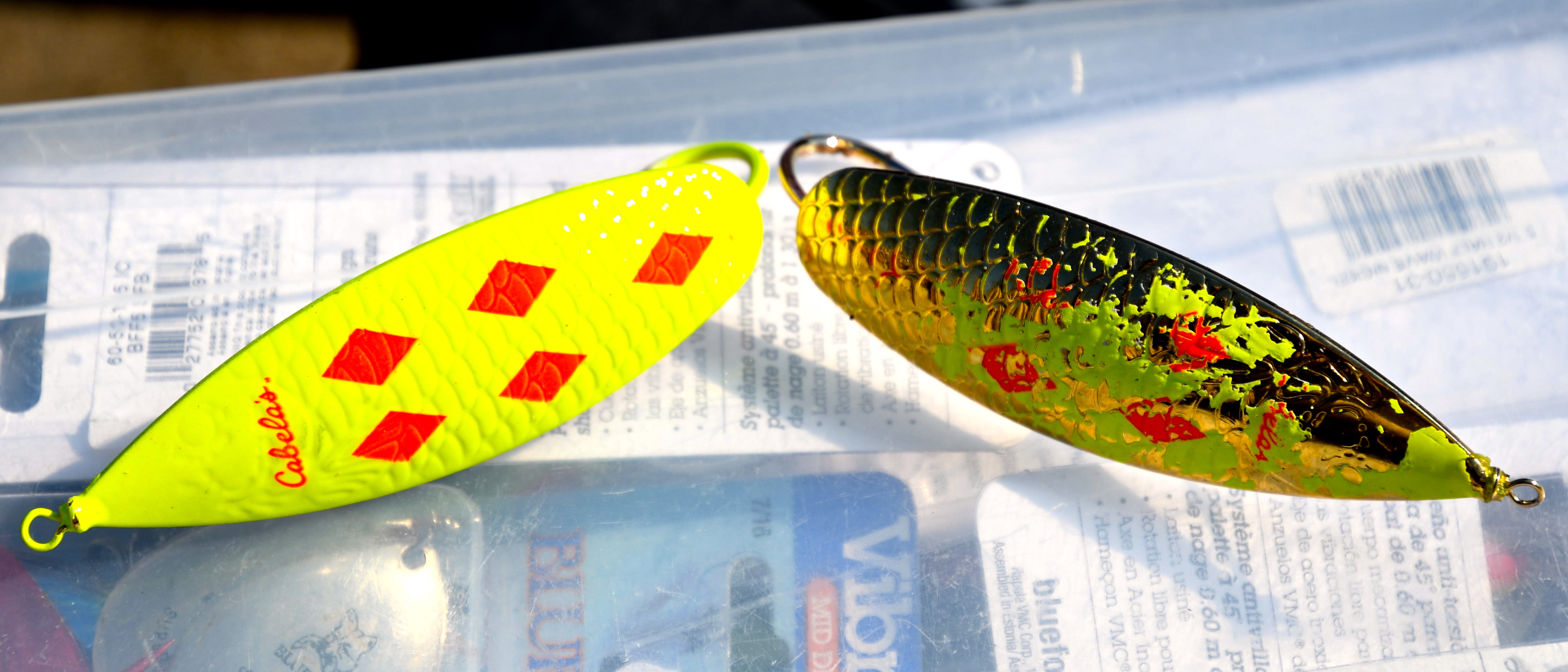 Most of them were on the small side, with our biggest being 36", but we saw a few that would have easily topped 40" come up and give us the evil eye while we were landing another fish.
In fact, after we saw one big gator swim off, I dropped my lure just in front of where I assumed it was headed, which resulted in a massive hit, followed by a powerful run, and that tell tale "snap" when it broke me off.
Hmmm…
Just as Henry and James came into sight, Josh brought our attention to the fact that there was a rather large herd of Muskox, sauntering along the riverbank.
This was a perfect opportunity to get some drone footage of the herd, so we pulled into shore, but the herd had started to move inland at a rather rapid pace, so we were forced to give chase.
I had the drone airborne in short order, and damned if the bloody thing didn't take off again! I don't know about you, but I've never heard of the Naiju River Airport.
While on it's fly about, I kept the camera rolling and somehow managed to get a brief shot of the herd, but I really do have look into why this drone has suddenly developed a mind of its own.
Our plan was to meet for lunch at the river mouth around 1, and it being 12:30, if we didn't want to dine on Pike, it was time to exit the river and scare up a trout or 2.
We made radio contact with Art and Rodney, who had given the Pike a pass and went straight to 2nd River, but although they had caught some fish earlier, they didn't keep one for shore lunch.
No worries. All 3 boats worked the area just outside the mouth or the river, and in no time we had more than enough fish for lunch.
Lunch, at one of, if not the nicest shore lunch spot on the entire lake, was a veritable feast.
Our first course was grilled salami, prepared by our new Chef du Salami – Kenny Gold – followed by such traditional favourites as fried potatoes and onions, beans, Rodney's killer hush puppies, and pan fried trout with a light lemon/pepper coating, together with what I now call Josh's – Truite a la Naiju.
He first rubbed the fillets with a variety of spices, including cumin, oregano, basil, chilli powder, salt and pepper.
They were then seared on one side, wrapped in foil, and placed on the fire for a couple of minutes. This produced a fillet that had a crunchy exterior, but was perfectly soft and moist inside – sublime.
It was served on a bed of sautéed vegetables, and finished with some fresh lime, thinly sliced green onion, and a sprig of local flora for garnish.
Any high-end restaurant would not have hesitated to serve this dish.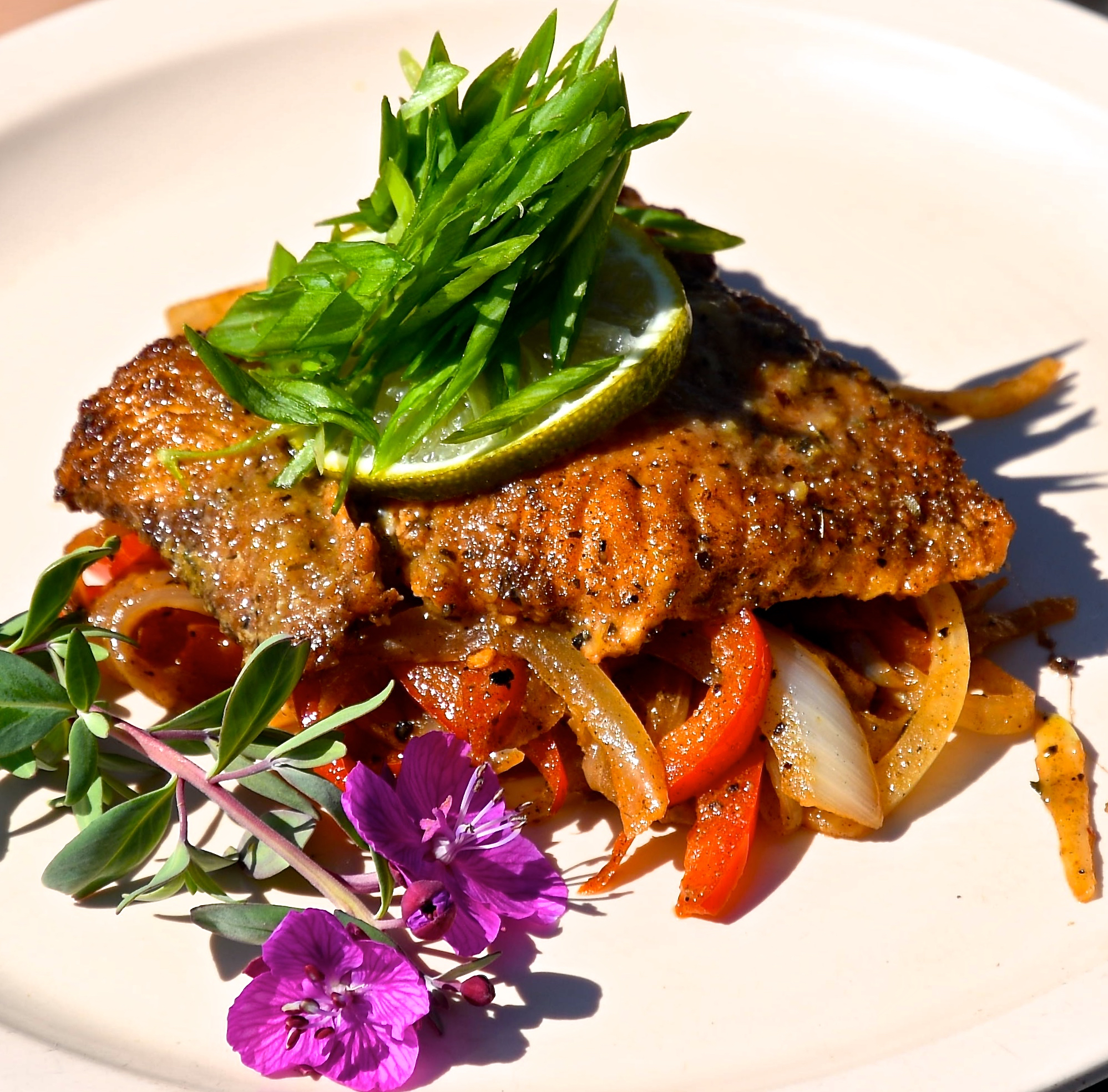 It was then back into the river right after lunch, with the focus being on quality, rather than quantity.
Quite frankly, it was hilarious trying to ward off the small fish in order to get at the bigger ones, but it worked to some degree, as our average sized improved, and we caught several more over 30".
I also changed it up a bit and switched over to my 10wt, and using one of Josh's hand tied "poppers," had a blast watching the Pike slam them on the surface while I stripped it in.
But enough Pike already, the time had come to go in search of what are arguably the world's biggest Grayling, and the stretch of shoreline we would be working has produced numerous world records, including the 6lb. line class record that I currently hold.
So what the hell were we waiting for!
According to Josh, virtually Grayling we caught would have been a provincial line class record in any other province, and to illustrate this, we caught several fish over 20", including one that stretched the tape to 22".
To put this into some perspective, it was not all that long ago that a 12" Grayling would have made the cover of Field & Stream.
Henry and James also caught some very nice Grayling, with James finishing strong in the trout department with a 23 – pounder, that he had caught while trying to catch a lunch fish.
In our view the day was perfect in every way. Great fishing, great weather, a magnificent shore lunch, and in keeping with tradition, we turned our seats forward and drank in the view on the ride back to the lodge.
It had also been a great week for big fish, as the trophy board below clearly shows.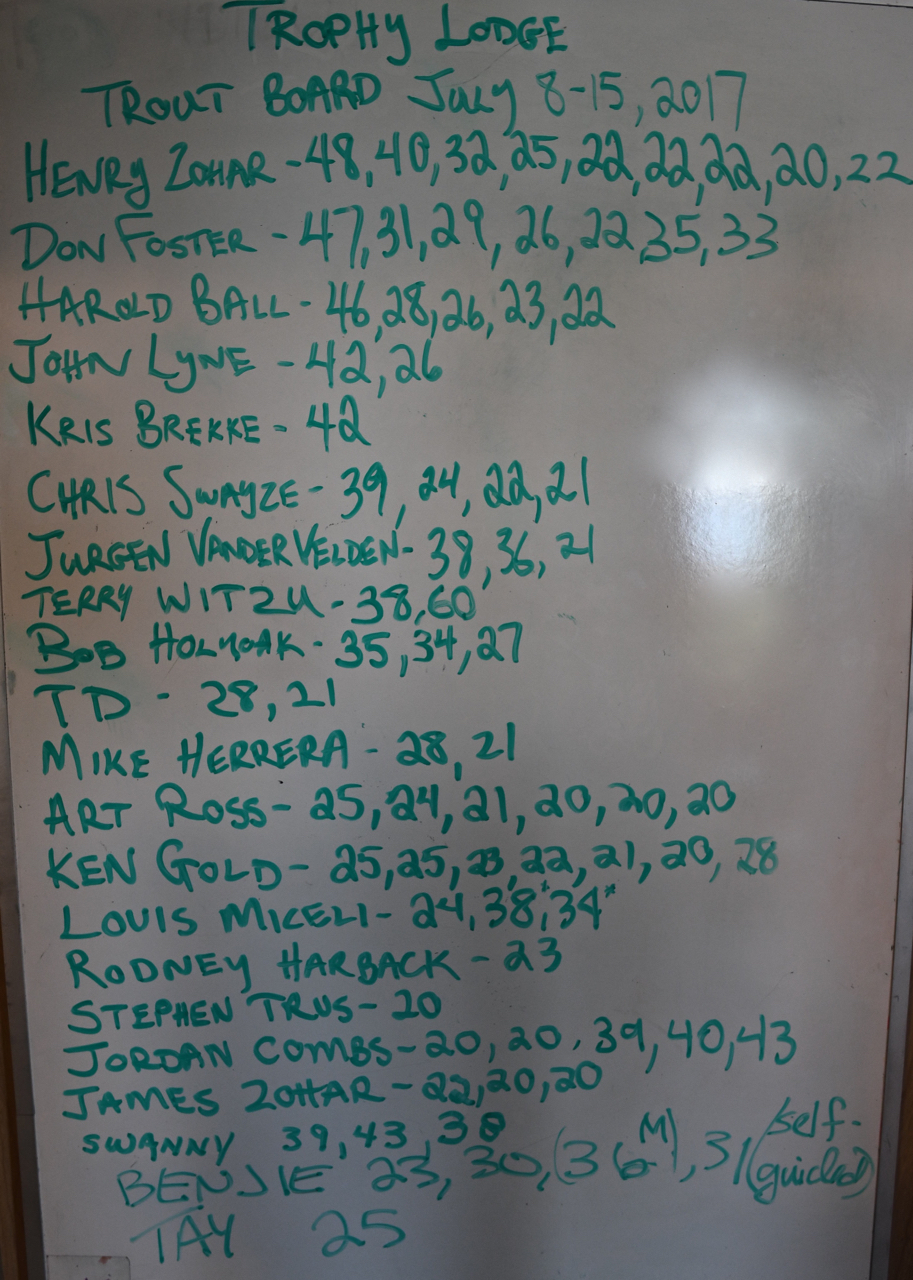 22 anglers caught and released 74 "trophies," that had a total weight of 2166 pounds – or just over a ton – for an average weight of 30 pounds.
If you know of any other lake that can produce these kinds of numbers of big fish in just a single week, I suggest you go and fish it – and good luck with that by the way.
I keep a running total of the "trophies" we have caught on Bear over the years, and when this years catch is factored in, it brings our total to 611.
Dinner featured a delicious, slow roasted brisket, and once we finished packing and settled our accounts, we just kicked back and enjoyed some conversation and a couple drinks with the guides.
July 15/16
Déjà vu All Over Again
Saturday morning is always something of a drag, because all you can do is sit around for a couple of hours, and wait for the signal to hump it over to the airstrip.
The transfer of people and gear went smoothly, and after saying our goodbyes, and for that matter our hello's to Donny and Seth, who were just about to start their week – the lucky dogs – we were airborne and back in YK just after 1:30pm.
Once back at the hotel, Henry, James and I visited the Gallery of the Midnight Sun, and the Yellowknife Diamond Centre, as James was contemplating buying something sparkly for a very special person back home.
And although he couldn't find anything that had the requisite "wow" factor, it was interesting to check out the various offerings both places had.
True story.
The night before I left for the lodge, Lauren and I had dinner at our favourite Steakhouse (Barbarians) in downtown Toronto, following which we attended a King Crimson concert at Massey Hall.
Now for those of you who know anything about the band, lets just say they are not exactly top 40, maybe not even top 1 million, so imagine my surprise – make that shock – when, as we were finishing dinner on Saturday night, I heard their signature tune – In the Court of the Crimson King – playing in the background through the restaurants music system.
It was definitely a sign, fate, or some other spooky thing.
Not one to ignore signs, or otherwise temp the fates, when I arrived in Toronto early Sunday evening, and after driving home to off load my gear and feed the livestock, we made a beeline for – you guessed it – Barbarians!
One could say that I had now come full circle, by ending it pretty much how it began…
Post – It Notes
The campers, who fished Macintosh Bay, said there were loads of fish throughout the bay. This was excellent news in that during our last 3 visits there were hardly any fish to be found. "Mac" Bay had produced an endless stream of "trophies" in years past, so it was nice to hear that the fish appeared to be coming back.
Chuk and his crew came through as always, making sure we had access to an aircraft, and the staff at the lodge could not have been more helpful by assisting us in getting everything we needed for our camping trip.
The guides, both veterans and rookies alike were superb. Having someone who is personable, knowledgeable, can handle big water, AND put you on fish, makes all the difference between having an ok trip and a great one. It's also worth noting that their passion and enthusiasm for the sport is infectious. When we caught our bigger fish for example, both Josh and Justin were so exited they were literally on the verge of tears – no bull.
After a couple of years of somewhat slim pickings, the tackle store at Trophy was very well stocked with lures, loaner rods and reels, clothing and libations.
There were new hats for sale featuring the original Trophy Lodge logo – nice.
It's time for new boats and motors.
Someone - and you know who you are - owe me for 2 bunches of Kale, 2 packages of fresh herbs, and ½ can of Parmesan cheese.
To whoever decided to play King Crimson at the restaurant in YK – thank you! And if you want to hear a killer cover they did of David Bowie's classic "Hero's," then here you go: https://www.youtube.com/watch?v=8eBmRcVMu74&feature=youtu.be Note: Even though this was recorded during their concert in Berlin, Germany, they played it at the Toronto show.
Whoever made off with some of our tents, and has been using our camping gear – put the damn tents back, and stop using our stuff. It cost us a boatload of money to purchase, and have those items shipped to the lodge.The granary is not a camping store, so if you want to use it - ask - and make sure you clean it before putting it away, and replace anything you loose or break.
Rodney, who can snore with the best of them, on one particular occasion, produced vibrations so intense they could have only been measured on a Richter scale. He then got up, pulled out HIS earplugs, and asked everyone how they slept! Priceless.
Don't forget to "like" us on Facebook!
If you have any pictures or stories to share, please send them along and we will post them on the Great Bear Lake Outdoors: greatbearlakeoutdoors.com or on our Facebook page.
Rant for the day:
My theory is, that if you say the same thing once or twice, it's an opinion. Say it half a dozen times or more, and it starts to sound more like a rant and/or obsession.
             So I guess this particular Post –it Note falls into the later category.
Now I have no illusions there are going to be a number of people who think what I'm about to say is simply wrong, and that I should keep my opinions under my hat where they belong, but in for a penny - in for a pound as they say.
I have always been a strong advocate for matching your tackle to the kind, and size of fish you are targeting.
To put it another way, when fishing Musky for example, leave your light tackle and/or noodle rods at home.
The same applies to big Lake Trout, and especially those on Great Bear and other relatively infertile cold-water lakes, where the trout grow very, very slowly, and get very, very old.
Unfortunately, there seems to be something of a trend developing at Great Bear, where more and more anglers are using longer, more flexible rods that in my view simply don't have the backbone needed to take control – or at least partial control - of the bigger fish.
This becomes even more of an issue if you are fishing in deeper water, because the fish tend to make longer runs, and can really hunker down, making it very difficult to get them moving, and ultimately into the net within a reasonable period of time.
And if you are inclined to weigh, and then remove the fish from the water for pictures, this simply compounds the level of stress the fish is already under.
It's not that anyone I know sets out to deliberately harm these fish in any way, in fact it's the exact opposite, but from my perspective its simply a matter of most people not really understanding what a prolonged fight does to these fish from a physiological standpoint.
Fish, like people, don't react well to stress.
The physical exertion of a long fight causes an oxygen deficit in the fish's tissues, forcing the muscles to function anaerobically, or in other words – without oxygen.
This causes a lactic acid build up in the muscle tissue, which then diffuses into the blood. This acts as an acid in the blood, causing the pH level of the blood to drop, and even slight changes in pH can cause major disruptions in metabolic processes, and ultimately kill the fish.
Some fish may, after a long fight, appear to be fine once released, but the imbalance of their blood chemistry may kill them several days later.
When a fish is caught and released quickly, its blood chemistry will usually return to normal, and it will in all probability, live to fight another day.
While you may loose more fish when using a shorter, stiffer rod, primarily because they will not absorb the head shakes as well as the longer, more flexible ones – what I can tell you from personal experience, having used both types – is that the fight will not be nearly as long.
There are certainly rods available that offer a good balance between power and flexibility, and I would recommend taking a look at what Shimano has to offer in the way of trolling rods.
Therefor in summary, while it's certainly fun to catch, it's even better to preserve, so get them in fast, take a quick picture, and then watch them swim away knowing they are probably going to be just fine.
As always, I'm adding the usual disclaimer regarding errors and omissions, but if I screwed anything up, or left anything important out – just let me know.
So, after 8574 words, I will stop droning on, and bid everyone adieu and tight lines.
And speaking of droning on, please enjoy this short video:
https://www.youtube.com/watch?v=g7CyLJwQsSk&t=9s 
Last modified onSunday, 25 October 2020 11:47