Written by Harold
Please join us in celebrating the life and times of one of Great Bear's finest – Paul Reynolds.
As mentioned in his obituary, Paul was indeed a "gentle soul."
Having known Paul for over 30 years, it's fair to say that he was also a man of few words – very few to be precise.
And while never very talkative, when it came to guiding, he was a professional in every respect.
Handling a boat in rough water, taking a rookie under his wing, putting his guests onto and landing countless big fish, and preparing fantastic shore lunches were all things Paul did with a high degree skill, commitment and passion.
Although we go back a number of years, I really didn't know him all that well, but every once in a while he would provide a little insight into what made him "tick", and the one thing that I did come to realize about Paul, was that he loved spending time on Great Bear Lake.
Throughout his life Paul fought illness and dealt with a variety of personal demons - always with a quiet grace and without complaint - and Great Bear Lake seemed to be the one place where he could always find a little comfort and peace.
Hopefully, you have now finally found both my friend…
http://humphreymiles.com/tribute/details/5054/Paul-Reynolds/obituary.html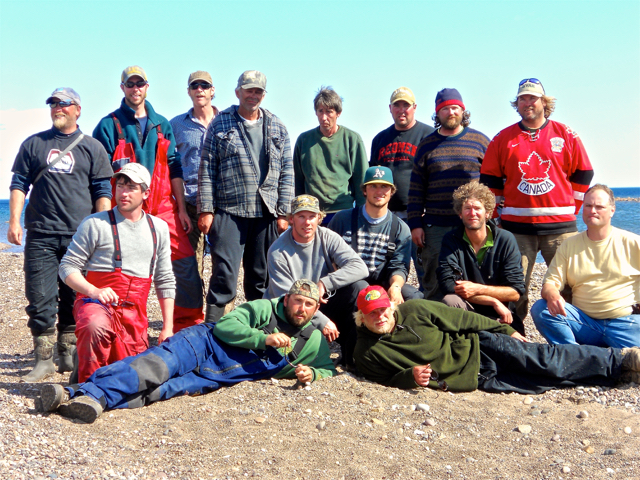 REMEMBRANCES
Dave Orr
Here's a good story from the past.
Paul and I were guiding 4 people from Toronto one year.
We were camping with them at Katseyedie. They were a difficult bunch, and one of the fellas in Paul's crew was a raging alcoholic - which made things even worse.
Paul had brought along his old single shot Cooey .22, and the drunk guy said, "what's the gun for?"
I replied it's in case the bear comes. He said that's just a little .22 what you 'gonna do with it. My reply was, "simple, I'm 'gonna shoot you in the knee and run like hell!!!"
Even his buddies had a laugh at his expense.
Paul and I sure were happy when Friday finally rolled around and the plane came to take this lot away. :)
Josh Gelinas
So saddened to hear of the passing of an old friend Paul Reynolds.
The legend of the Smith Arm himself.
My first week ever on the lake guiding was with him.
He taught me more then I can describe and kept me calm in the big waves I had never experienced before.
Took a majority of the night to travel to the old Branson's lodge by boat and the weather was shit.
That week I hit the biggest fish I had caught in my rookie year, which was 38lbs, and nearly got emotional to how excited I was.
The same day I got to hold a 70lb fish with Paul, which is quite possibly something I'll never see again.
Thank you Paul for the memories, the stores and the pictures.
King of the Smith Arm contractors, and a legend in full.
Rest in peace bud.
Look over us on the big water.
Rob Stewy
Paul closed up trophy lodge countless times and worked hard hours putting away boats and motors, and working closely with the Mechanic Erin, who could Always been seen riding his toys!
One close up Erin decided to fill a boat with pop and sink it so the pop could be used the next season and he misjudged how fast the boat would go down and couldn't swim!
As Erin was drowning, Paul in another boat came to his rescue, and pulled him out of the deep water by his hair as Erin was panicking and going down!
Paul stayed clam and saved Erin's life!
Last modified onTuesday, 15 August 2017 10:29