And the Gangs All Here! - Arctic Circle Lodge - July 9 through 16, 2022
Written by Harold
Kenny and I were not the only ones who had fun getting to Bear, some of our fellow "Circlites" had their own harrowing tales to tell, particularly Barry Gold, who endured 33 hrs. of travelling and waiting, with only 3 to 4 hrs of sleep mixed in while enroute to YK.
But before going any further let me introduce you to "our gang":
• Kenny Gold
• Barry Gold
• Jake the Guide
• Andrew Madill
• Brian Madill
• Bud Fogel
• Jim Coleman
• Hank Vanvugt
• Jan Zurek, and
• Moi
July 9
And I Thought Tilley Only Made Hats
And speaking of getting there, there was a slight revision in regards to the shuttle service to Circle this year. In 2019, we all flew over from the main lodge, but this time around, as noted in my journal outlining week 1, Kenny and I buzzed over at around 8am, and the rest came on the Otter directly from YK, arriving at around 2pm.
I have no idea what that was all about, but given the gong show that air travel is today, the fact that everyone got here is a minor miracle in and of itself.
But travelling hiccups notwithstanding, we were extremely fortunate to have June and Dean back as our camp commandants along with the newest addition to their crew, Tilley the Golden Doodle. Who includes the name "doodle" when naming a dog breed anyway?
The weather at this end of the lake was a carbon copy of what we had in the Smith Arm. Hot, humid and smoky, although a bit of a breeze did come up later in the afternoon that helped dissipate the smoke to some degree and cooled things down somewhat.
Having had no real opportunity to do so last week, today our initial focus was to be on Esox lucius. I had been promising to take Kenny to a very special, super-secret and extremely hard to find Pike spot for over 2 years, and the time had now come to pay the piper and deliver.
The name of this mythical spot is Beaver Inlet, and you can find it by – ya, right, like I'm going to tell you. But what I will reveal is that when going through the very narrow channel into the inlet, watch out for the big rock that is just barely below the surface of the water in the middle of the channel.
The inlet itself was a lot longer and the water much deeper than I had expected. We fished both the shallow and deeper water, and had our best luck in a shallow, weedy bay that was an offshoot of the main body of water, located near the back end.
We, actually Kenny, caught a dozen – I had decided to guide rather than fish for Pike - including a 35 and 36 incher. I suspect if we had spent more time in there the numbers would have been higher, but we were anxious to try and scare up some Lake Trout by hitting a couple of places that had really produced in 2019.
Now the biggest difference between 2019, where it didn't get above 45 degrees, and this year was that it had been bloody hot all of last week and would stay that way for most of the week ahead, with the result that surface temperatures were running rather high.
Our first stop is what we call "Chu Island" (CI) where according to the outgoing guests it produced a 50+. Because we only had about 10 minutes with them before they left to gather as much intel as possible, I can't say for certain that this was the exact spot, but based on what they said, it would appear that it was caught in the general vicinity of the island.
Even though the water temperatures were in the low 60's, we gave it ½ hour, but unfortunately came up empty.
One other piece of intel that the departing group was kind enough to pass on, was that because of the heat, the best fishing was first thing in the morning and right after dinner. And they were spot on, because Kenny and I both noticed that the fishing often slowed down in the afternoon, and although we didn't go out after dinner, those that did usually did pretty well.
Next we headed over to another 2019 hot spot, the mouth of the Sloan River. The water temperature there had soared to a balmy 70 degrees, which would have been fantastic if we were planning on taking a dip, but in terms of the trout fishing – forget it.
Given those water temperatures we gave the large shallow bay off the river a go in hopes of catching a Pike or 2 – but that proved to be a rather futile undertaking as well.
It didn't take the rest of the gang any time at all once they arrived to get out on the water, and every boat caught numerous fish within easy driving distance of the lodge.
Andrew and Brian recorded a number of double headers, and Barry bested a 22 pounder, which was the big fish of the day.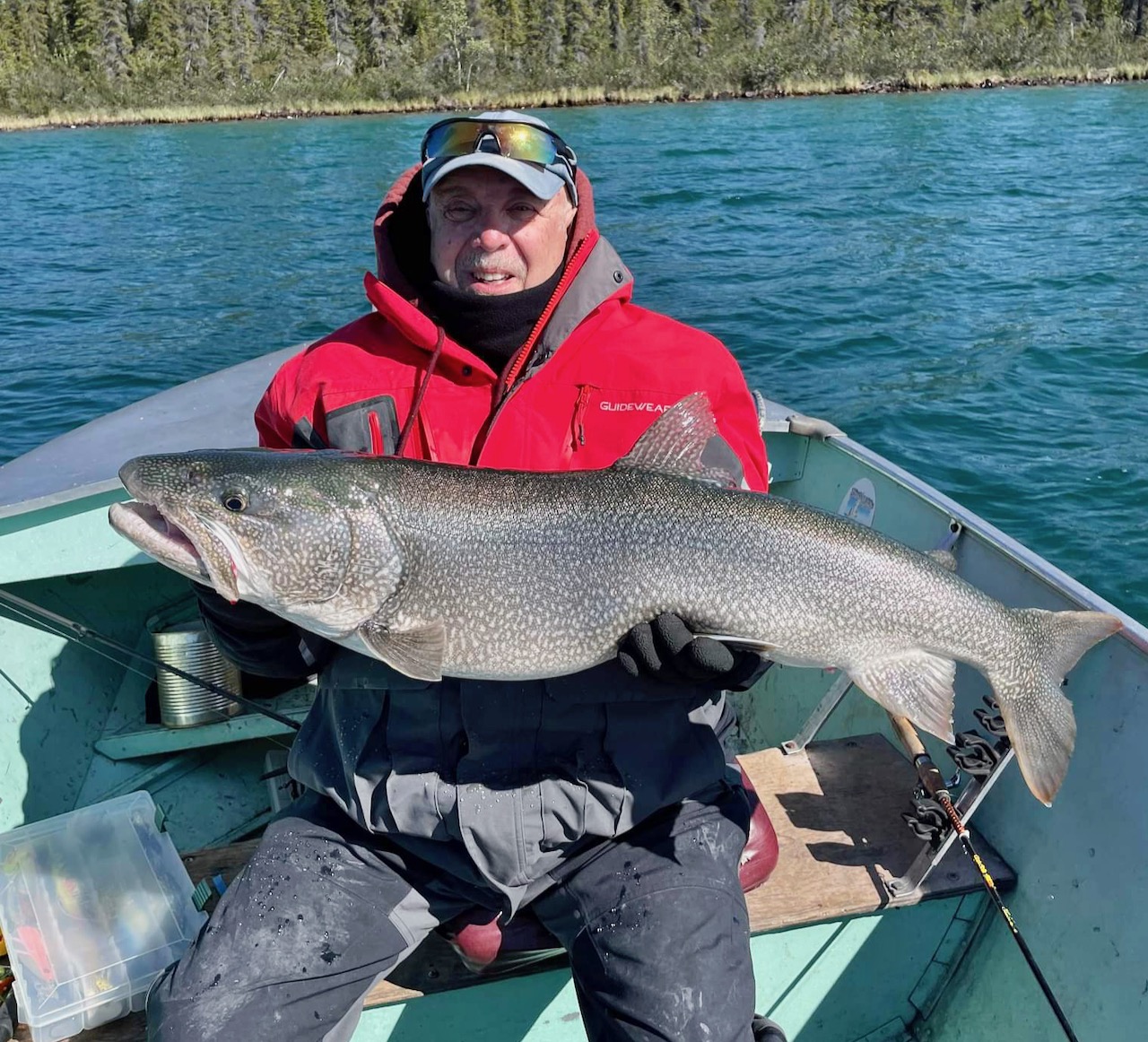 July 10
McAlpine – Is That a Single Malt?
Rather than head off in the direction of Hunter Bay again, we concluded it was time to find some new water, that hopefully was not hot enough to poach an egg.
Bud, who was originally from Chicago and is now a Phoenician, and his long-time friend Jim who is, and continues to be a Chicagoan, asked if they could tag along with Kenny and I as they were still in the process of getting their bearings.
I didn't have the heart to tell them that we didn't have a clue where we were going either but invited them to join us if for no other reason than if we got lost- we'd have company!
For some reason Kenny, who was facing the stern, and therefore should have been able to keep an eye on Bud and Jim who were right behind us when we left the dock, didn't mention that he lost sight of them – assuming of course he was even looking – until we had been travelling for the better part of half an hour.
We stopped and fished for a few minutes, and then thought it might make some sense to try and find them, so headed back in the direction of the lodge. On the way back, and because we were obviously not terribly concerned about their plight, we put our rescue mission on hold and paused to fish a shoal that we just missed hitting when traveling in the opposite direction.
This was what I would call a "pop -up" shoal, in that it was lurking just below the surface in the middle of nowhere, with very deep water on either side. It was one nasty pile of rocks, that could have easily taken out our lower unit had we made its acquaintance while running at full throttle.
Bud and Jim were nowhere to be seen, and because we considered ourselves to be caring individuals, immediately turned around and headed back to where we had first started fishing, having come to the somewhat spurious conclusion that they had decided to go elsewhere. But upon reflection, we had a sudden pang of conscience, turned back around yet again and made a bee line for the lodge.
We eventually did find them fishing along shore not far from the lodge. They explained that shortly after they left the dock their motor conked out, but fortunately there was a boat coming up behind them who unlike us, stopped and towed them back to the lodge.
So off we went again with Kenny being given specific instructions not to let them out of his sight.
Now that everyone was finally fishing in the same general area, we started trolling in a westerly direction along the shoreline through the McAlpine Channel.
There were certainly fish around, and by the time we took a lunch break, we had boated about 10, but nothing over 12 pounds. Bud and Jim came over to see how we had been getting on and told us they had been doing about the same in terms of numbers and size.
Kenny got it into his head that we should try something different and fish the water on the main lake side of the islands that shield the outer entrance to the channel. I intimated that it would be far too cold out there, but he insisted, although when the sonar showed a surface temperature reading of 39 degrees, I told him the experiment was over, and we were going to find some water that was not a few degrees away from forming ice.
Working our way back, we trolled our spoons over a shoal off of a point that featured one very large rock, hereinafter to be known as "Random Big Rock Point" (RBRP) – try finding this on the map – and as luck would have it produced a number of fish in the teens in addition to Kenny's 25.
Barry and Jake had gone to Hunter Bay to try their luck in the bay that runs off of the Sloan, picked up a 41" Pike, and saw one that Jake believed would have gone 50+. They also took a run up to the falls, where compared to 2019, the water levels had dropped significantly, although water levels in the river itself appeared to be much the same as they were back in '19. Interesting.
Andrew and Brian, who also head towards Hunter Bay caught a bunch of fish, including a very nice one in the high 20's that when looking at the picture may have even hit 30. Not being familiar with the area they couldn't say for certain where they had been fishing, but upon cross examination, I was convinced their fish were caught at CI – 60+ water temperatures notwithstanding.
Our total for the day was 28, and it appeared that everyone also had some very good fishing.
June and Dean had told us that because this was "our" trip we got to call the tune when it came to breakfast and dinner times, and although originally we agreed on 8am and 8pm respectively, upon reflection most of the guys didn't want to wait until after 8am to get out on the water, so we came to a consensus that 7am and 7pm would be a better choice.
During the first couple of days, the majority of our crew could be found wandering around in the lounge area well before 6 am, no doubt comping at the bit to get out there, but by the middle of the week most straggled in just before the 7am breakfast bell rang.
Those 10 to 12 hour days, fishing in the heat and bright sun certainly began to take its toll as the week wore on.
July 11
Well, Why Don't You "Chu" on This for a While
Given Brian and Andrews success yesterday, we made the decision that we no longer gave a rat's ass about water temperatures, and as a result allowed ourselves to be drawn back to CI by a seemingly irresistible force.
Stupidity perhaps?
At first blush it seemed that we had made the right choice, because in less than an hour Kenny caught 2 in the mid 20's, and I got another around 14 together with 4 other small ones.
Not that we were paying any attention or actually cared, but the water temperature had dropped to between 52 and 54 degrees, likely because the wind had kicked up yesterday afternoon and blew in some cooler water.
The hot lures were a Giant Half Wave, one in red/white/silver and the other in red/white/gold.
After the first hour that place was as dead as Monty Python's parrot, so I suggested to Kenny that rather than continue to do nothing more than wear the paint off of our spoons, I would take him further up the Sloan River where he could do a little Pike fishing.
He was all for that, but before entering the river, he wanted to drop a line about 150 yards from the mouth, as the temperatures that far out – again not that we cared – were slightly cooler than further in. He did catch a couple of small ones, but overall there was very little going on.
First stop was the bay where Barry and Jake had spotted the 50+, but no cigar. While in there we noticed a couple of Swans, and I wonder if they were the same pair that were hanging around in 2019.
I then took him down to the junction of the Harrison and Sloan Rivers where he caught 14, with only 2 under 30" and 1 that gave 40" a nudge.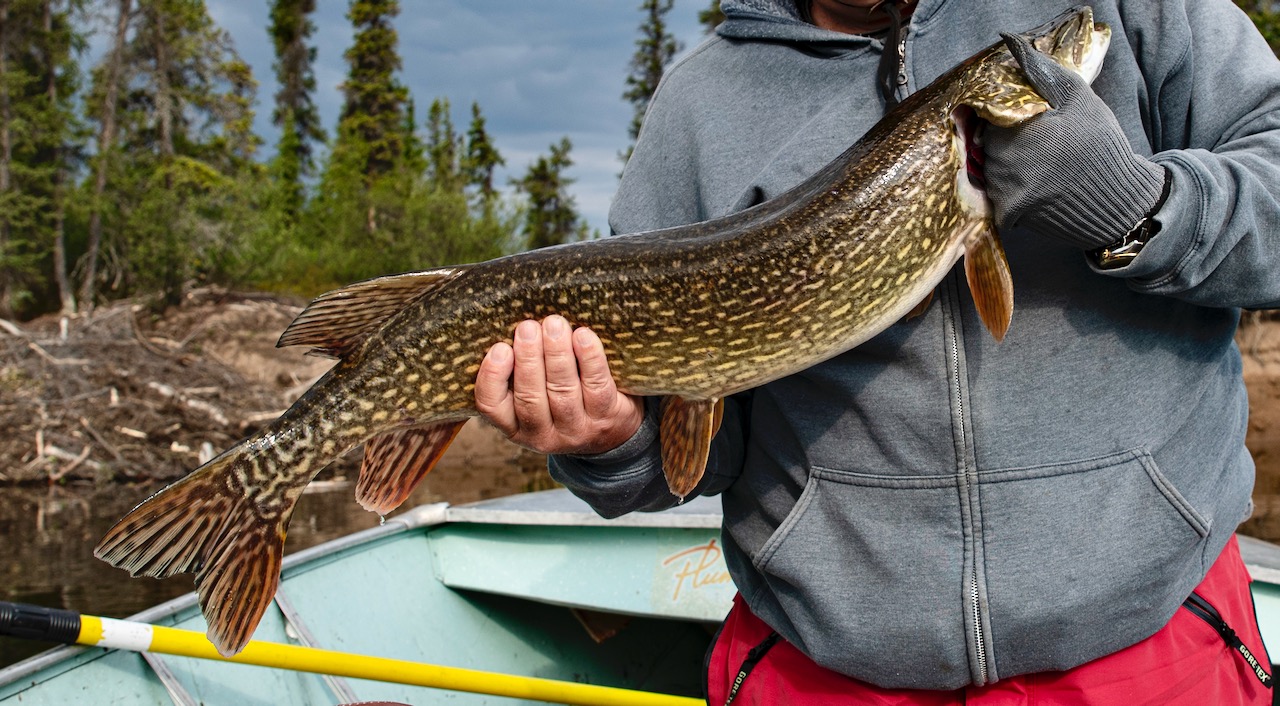 It was a nice break from Trout fishing, but it was time to start working our way back towards home, and we wanted to give CI another shot in any event. We picked up one small one, and Kenny got a massive hit, but otherwise – nada.
As we still had a couple of hours to go before dinner, we stuck our nose into Domex Bay. June and Dean had fished there several days ago and did pretty well right at the back. I tried a number of different spots throughout what is a rather large bay, but the only thing we found was 45 degree water – not that it mattered of course.
When we came out of the bay, the sky to the west looked pretty nasty but we were not a 100% sure if there was a storm brewing or if it was heavy smoke we were seeing. Discretion being the much better part of valour in these circumstances, we hightailed it to the lodge.
I guess the dark sky was a combination of smoke and a few storm clouds, because other than a couple of brief showers around 7:30pm, the weather was otherwise fine for the balance of the day.
Somehow Barry and Jake managed to stumble onto Beaver Inlet, and in doing so succeeded in catching several small Pike. So much for our very special, super-secret and extremely hard to find Pike spot.
A number of boats fished the area north of the lodge today and everyone caught tons of fish, but other than the 2 Kenny caught, only Andrew (or was it Brian?) hit the 20 pound mark.
July 12
We're Just Going to Have to Grin and "Bear" It
We were not exactly setting the world on fire – mother nature had the monopoly on fire – when it came to critter spotting.
So far, with all boats reporting in, collectively we had only seen a couple of Gulls, 1 Squirrel, some ducks that I think were Surf Scoters, several Bald Eagles, a few Common Loons, 2 Swans, a Golden Doodle and a Moose. Now mind you that part of the lake is not known for high critter counts, but there are nesting Perrigins in the cliffs, but none had been observed so far.
There was a time when the only Bear's in this neck of the woods were of the Black variety, but for reasons that may never be known – global warming perhaps (?) - there is now at least 1 Grizzly around, likely the Barren Ground or aptly named Ursus arctos horribilis.
Now this particular Ursus had style and liked its creature comforts, because come winter, forget about hibernating in some dark, damp, wet cave, it set up residence in room #10 right inside the lodge.
And did that Bear have a good time!
There were all manner of things to break, play with and chew on, including a fridge and the couch, which was used as a giant chew toy. What a life. I wonder if they left the wi-fi connected so it could keep abreast of world events?
And speaking of world events, June and Dean had been having something of a back and forth between themselves and Pike Mike in regards to the grocery order, and while for the most part the order was filled correctly, when it came to frozen peas none were forthcoming.
According to Mike the frozen pea shortage was all Putin's fault, and I can only imagine the impish grin on his face when he sent that email.
Anyway, enough about critters and world affairs because this is supposed to be a fishing trip – right?
Our first stop today was RBRP, but only managed 1 hit and a miss in the ½ hour we were there.
It was then off to 3rd Bay as I call it, where we had planned to fish a spot that went by the name of "Hog Narrows." While working our way there we stopped to fish a shoal adjacent to an island located just before you made the turn into the narrows.
It paid off (thanks for the tip Bunk!) because my first fish was a 26 pounder, and while Kenny caught a small one shortly thereafter, that was all she wrote.
Turning the corner into the narrows we saw that a boat was already working the area, so not wanting to encroach, we continued trolling past the narrows towards the back of the bay.
Although it was warm and generally calm, the sky over our heads had been blackening for the better part of an hour, so the Rain Gods decided why not rain on the 2 goobers who were not wearing their rain gear.
And rain it did for over an hour, and while we managed to gear up AFTER we got soaked, it was overall a bad move because as soon as the sun came back out, it felt like we were trapped in a hot, damp sauna.
Anyway, we stripped off our rain gear and by the time we reached the outer edge of the bay, we were pretty much dry.
We started trolling north towards 2nd Bay and picked up another 20 trout, including a 22 that Kenny somehow coaxed into taking his spoon.
For the most part we were using spoons, such as the Giant Half Wave, Malibu Barbie and Fire Tiger Husky's, but if things slowed down, we would switch over to T60 Flatfish.
After giving that area a good going over we moved further north to the mouth of 1st Bay, or Wpt.#16 on my GPS. And although we caught next to nothing, it was like fishing (as opposed to catching) in a giant aquarium, because we could see all kinds of fish in various sizes drifting lazily along. Much like what we experienced at Caribou Island last week, we came to the conclusion that if you could see'm, you were unlikely to catch'm.
We were beginning to realize that Jake the Guide had a real nose for Pike. Not only did he somehow manage to discover Beaver Inlet, he found a really great spot at the back of 3rd Bay that we didn't know even existed. When we were talking to the outgoing group they mentioned a rather small creek loaded with Pike, and although their directions were not the best, based on how Jake and Barry described it, this may have been it.
While it was a challenge to get into given that the mouth of the creek was protected by a sand bar, they found a way to navigate around it and went upstream as far as possible, with Jake getting out of the boat at one point to pull them over a shallow gravel bar into a pool just below a fall.
According to the map, if you could get past that, there was a decent size lake that fed into the creek, and I can only imagine what the Pike fishing would be like in that lake!
Between them they caught a mess of Pike, including several over 30" with Barry besting a beast of a gator over 40".
Once again the numbers of fish the other boats were catching was very impressive. Several of the guys spent at least some of their time casting smaller lures into the shallows and it certainly paid off, and while the fish caught using lighter tackle rarely topped 12 pounds, they all fought like cornered Tigers and were therefore loads of fun to catch.
Those that fished Hog Narrows did very well in terms of numbers, but unfortunately didn't crack 20 pounds.
July 13
Gentlemen, Start Your Engines!
Have you ever thought about how cool it would be to have a NASCAR pit crew take care of your vehicle, or for that matter boat?
I have to admit that it really hadn't crossed my mind until now, but when I saw Dean in action every morning down at the dock, it was the first thing I thought of.
Each and every morning our boat, and I'm assuming everyone else's, was bailed out, had 2 full tanks of gas, a fresh battery for the sonar, the motor was started, and he was there to help get you and your gear into the boat.
And not only that, when you came back in Dean was right there to tie you up and offload gear and people in the event you needed a hand.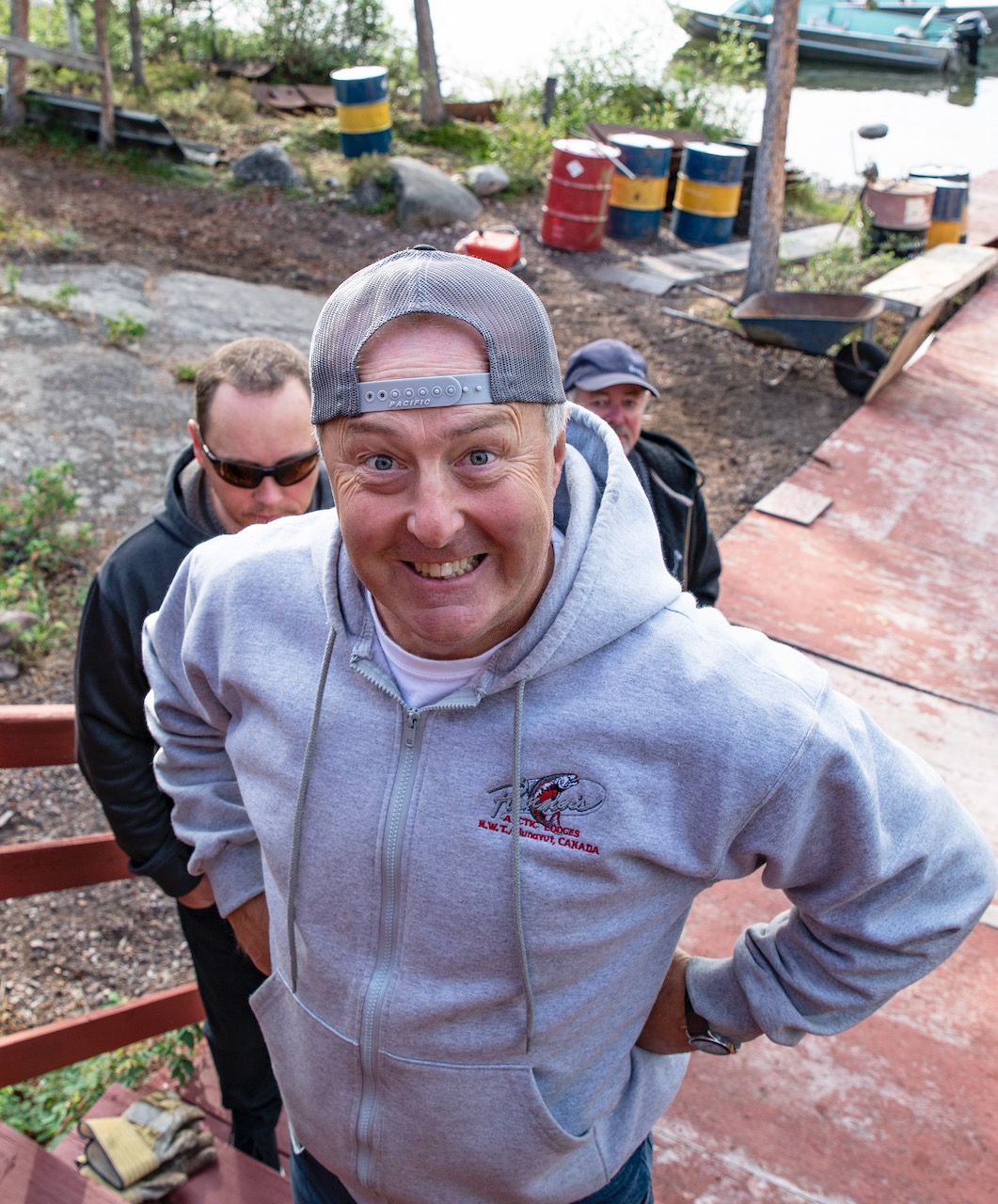 Talk about service…
Although it was a bit cooler today, which was a welcome respite from the heat, the sun was out and the winds were light making it from a weather standpoint, a picture perfect day.
Now that we knew where it was, having just missed finding it the other day, it was time to pay a visit to the creek Barry and Jake had fished yesterday. Once we fished it I figured that it should have a name and settled on "Jake's Creek."
I put the motor in shallow drive, but we were unable to make it across that damn sand bar. Backing off the sand I did a survey of the situation, and noticed some darker water close to shore, which fortunately was deep enough for us to get into the creek.
The area we fished was no more than 150 yards long and relatively narrow, with all manner of branches and stumps, many of them likely courtesy of the Beaver who had set up shop there and was watching us like a hawk.
We took a look at the gravel bar to see if there was any chance of getting past it, but it was far too shallow and unlike Jake, neither of us were wearing waders, so pulling the boat over into the next pool was not a viable option.
It took several casts before the Pike finally decided to take notice, and in approximately 30 minutes of fishing, Kenny caught a dozen, including 2 in the mid 30's.
Just as we were getting ready to leave he spotted a fairly big one lying on the bottom in a small clump of weeds, so he dangled and twitched his spinner just below the surface of the water in hopes of provoking a strike. This big old Gator obliged by shooting up like a rocket, broke water, and in doing so scarred the crap out of both of us.
When Barry and Jake told us about this spot, we got the impression that it was a much bigger area and that they had gone a fair distance upstream. Fact is, other than getting into the one pool above the gravel bar, they caught all of their fish in the same small area we fished.
It's one of those places that if it gets hit hard will probably turn off very quickly, so I would recommend restricting the number of visits to perhaps no more than 2 throughout the course of a week. I know that if we had realized just how small an area it was, we likely would have waited at least one more day before visiting.
As an added bonus one Beaver and another Bald Eagle were added to the critter count.
It was now trout time, and I started off by working our way west along the north shore of 3rd Bay. We hadn't been fishing for more than 5 minutes when we had 2 fish on. Mine appeared to have some weight to it, so I did my best to position the boat where it would be easier for Kenny to land his first.
His was no minnow either, and it took longer than expected to bring in a fish that would have easily gone 15 pounds. Meanwhile, I was trying to keep my line tight which was somewhat problematic given the way the boat was positioned. My fish was now pulling the boat backwards, when suddenly the line went slack. I frantically began taking up line in hopes that the fish was making a run for the boat, but unfortunately it had spit the hook.
Damn.
There were no more fish to be had in that area, so we moved around the point and started working our way north towards 2nd Bay. Unlike yesterday, the fish were simply not interested, therefore I called a halt to the proceedings and took a lunch break while contemplating our next move.
Both of us remained focused on continuing to fish new water, so when studying the map, I noticed a relatively deep bay located near the top of Workman Island that looked interesting. Once lunch had been consumed I fired up the GPS and off we went in search of new horizons.
My navigation skills while not Christopher Columbus like are pretty good, but the hard copy of the map I was using did not seem to be in alignment with the map on the GPS, with the result that I really didn't know where the hell we were.
Stopping the boat in an attempt to try and get both maps into alignment, I spotted a large bay about a kilometer away, and concluded that rather than continue to flit around like a fart in a windstorm – why not give what I later christened "Lost Bay," or Wpt.#43 a look see.
Starting at the back of the bay and working the shoreline at the base of some imposing, sheer rock walls that continued on below the surface of the crystal clear water, we were on fish in no time, that is until Kenny started pointing out all the trout he could see swimming beside the boat.
Given our past experience it was clear that if you saw fish you didn't catch fish, and I suggested that he consider finding something else to look at if he wanted to catch a few more. While he was doing his impression of a sonar it had slowed right down, so I moved over to the other side of the bay and told him to read a book or something rather than continue to try and see how many more fish he could spot.
The opposite side was dominated by 2 very large sand flats, which I would love to visit just after the ice goes out.
In total we caught 15 fish including a 21 pounder, and I have no doubt that number would have increased substantially if you know who had pulled his hat down over his eyes.
On the way back to the lodge we made a quick stop at Wpt.#16, and while someone was quick to point out that he could see a few fish swimming around, it came as no big surprise that we didn't catch any of them.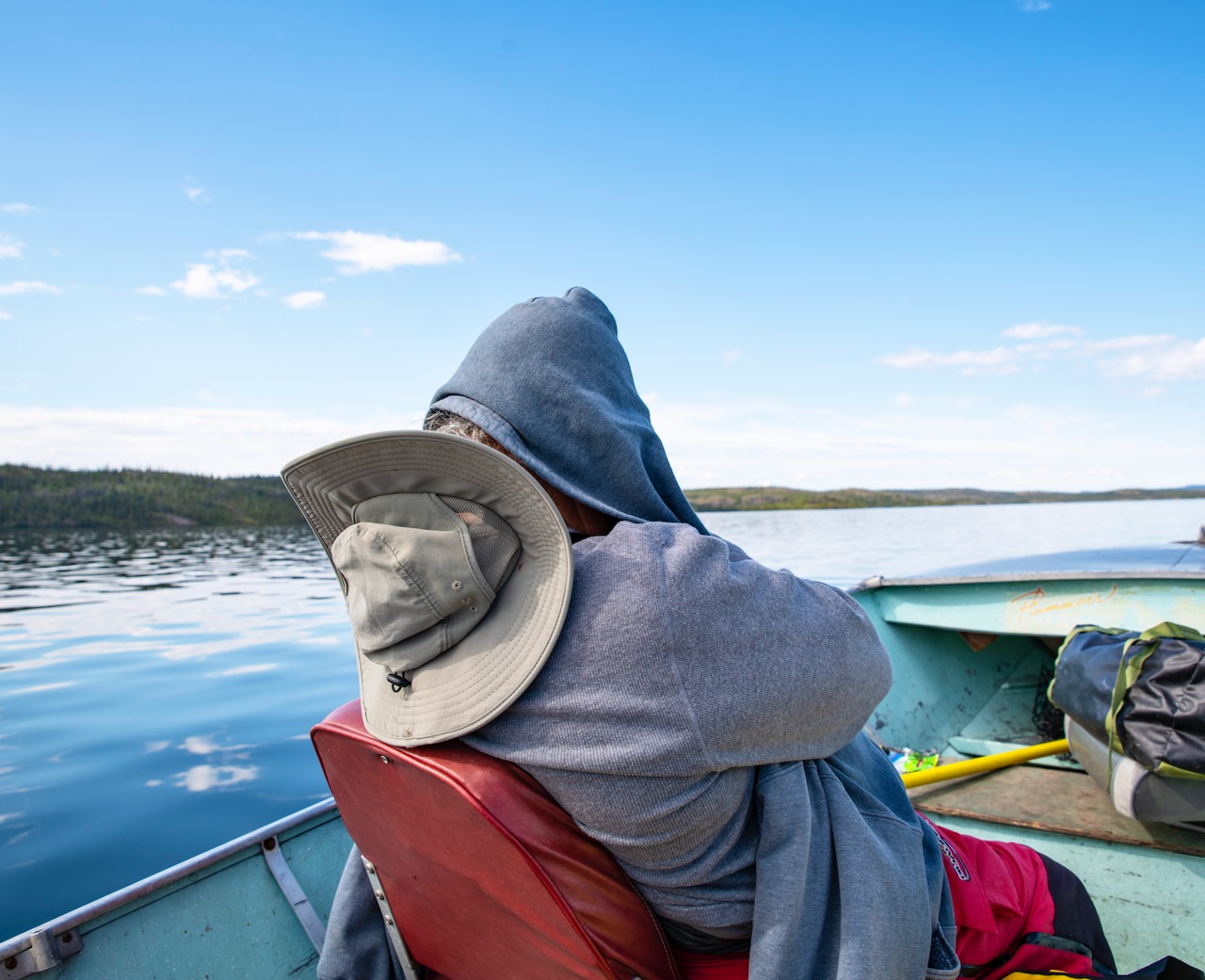 Everyone continued to catch impressive numbers of fish, and together with several Pike in yet another new spot that Jake found, Barry caught a 21 pound trout. Our total for the day was 29.
I mentioned earlier that Dean had been providing all of us with top notch service, and I would be remiss if I didn't include June when handing out kudos.
The meals had been superb all week, and this evening she pulled out all the stops by starting us off with some fresh, hot, homemade "beer" bread. This was followed by a delicious meat loaf accompanied by a roasted red pepper stuffed with seasoned ground beef, rice and cheese.
Dessert featured a house made cream puff served with a small, semi-sweet brownie that created a very well balanced flavor profile.
Spoiler Alert: There is a rumor floating around that the temperature was going to drop to around 8 C, or 46.4 F tomorrow.
July 14
If Only it Was JUST a Rumor
Well it definitely weren't no rumor, and we awoke to some pretty thick fog together with a 30 degree drop in the temperature. It was Déjà vu all over again as Yogi was fond of saying, because as was the case in 2019, the outdoor thermometer was registering 42 bone chilling degrees.
About the only good thing I can say about this development is that we finally got to wear all the cold weather gear we packed for just such an occasion.
Given the weather, and the fog in particular, we decided to fish water we were familiar with rather than try and find something new.
Heading towards Hunter Bay our first stop was CI, and not unlike our experience on the 11th, we hit fish on our first pass. It was a double header made up of 2 identical looking 15 pounders, but given the way the wind was blowing, when trying to position the boat so it would not get pushed onto shore, our lines got crossed and as a result we had a real ball landing those 2 fish.
Once we got everything sorted Boat Rule #1, which forbade the catching of any further double headers, was officially proclaimed and immediately implemented.
His Ears Must be Painted On – Too Bad the Same Couldn't be Said for His Eyes!
On the very next pass, someone who shall remain nameless pointed into the water and exclaimed: "Look, a fish!"
What a banana. I told him in no uncertain terms that he had initiated the curse yet again, and it would be at least 2 hours, if we were lucky, before either of us would catch another fish. It was 2 hours and 5 minutes to be precise.
I suppose we should have come up with Boat Rule #2 that would have outlawed looking over the side of the boat for fish, or at the very least made it a felony to say anything if you did see one.
We moved on from the the island and while working our way along the shore towards Hunter Bay, spotted some beige colour rocks, some of which had patches of bright green mineralization. A little further along we came to an area where some prospecting had clearly taken place in years past and given the way the coloured rocks were broken up and scattered around, it looked as though some blasting had been involved.
This find really came as no big surprise because the area around Hunter Bay, and in fact much of the McTavish arm has been the site of most of the prospecting that has taken place in and around Great Bear Lake since the 1920's.
Other than the pretty rocks there was not much going on, so we figured why not give Norrie Bay a go, as it was only about a 10 minute run from where we were currently fishing. It started off quickly with Kenny hitting a 22 on his red/white/silver Giant Half Wave, but other than a couple of other small ones, that was all she wrote.
We had pretty much decided to pack it in as the weather conditions showed no signs of improving anytime soon, when we saw Barry and Jake pull into CI, where Jake lit a fire as a prelude to preparing shore lunch.
It was very tempting to hop on shore and huddle up around the fire, but as there was no invitation forthcoming decided not to crash their party.
They had spent most of the morning in Hunter Bay, and in particular the Pike bay off the Sloan where they had seen the 50+", and although they did see it, you don't get to be over 50 inches by chasing down stupid looking lures. The good news though was that Barry's first trout weighed 21 pounds.
In retrospect perhaps we should have stuck around, because after lunch they began trolling across from the island towards a point just south of a little island I christened Little Round Top, where Jake caught what turned out to be the biggest fish of the week, a beautiful 40 pounder.
Barry got a massive hit in the same area, but unfortunately it snaped his 60lb braid like it had been a piece of thread. Maybe the line had a nick in it – who knows – but it would have nice if he could have landed that fish.
We made a pit stop in Domex bay, and much to our surprise the surface temperature – not that we are concerned with such mundane things anymore – had risen almost 10 degrees over the last couple of days, and other than being tracked by "Watching Man Rock" we only caught one small fish.
So a word about the rock.
About halfway into the bay on the left side, there is a rock formation that features some very distinct orange moss, or perhaps mineralization on the face of it. For my money, if you are very close (see picture below) it looks like a Lion, but when you're any distance away, as we were today, it bears a strong resemblance to the face of an old man, and gives one the impression that it's following you with its "eyes" as you move deeper into the bay.
Sounds a bit out there, but I know what I saw, although Kenny thinks that I was either hallucinating or just making shit up.
What do you think?
Despite the profound change in the weather the fishing remained good, with the Madill's catching another over 20 pounds.
July 15
Big Fish Friday – Redux
The day started off cool – although not anywhere near as cool as yesterday – overcast and with a bit of wind.
While conditions were such that we could have travelled a bit further afield in search of new water, given the success that Barry and Jake had yesterday off CI, we opted to give it go.
Barry and Jake were already working the area, so we did a couple of passes by the island picking up a couple of small ones in the process. Once they had moved on it was our turn, but other than one hit we came up empty.
It's a very interesting area with depths averaging 35 to 40 feet, including one short stretch where it dropped to 50. I really like the structure, and we will definitely pay it visit next year.
So enough with the trout and fishing generally already because it was now time to do some cruis'n baby! The first part of our scenic cruise took us up to the Sloan River falls, where Kenny caught a couple of small Pike. Barry wasn't kidding when he said the water had really dropped, because unlike 2019 we couldn't get anywhere near the falls.
We ate lunch while slowly making our way back to where the Harrison empties into the Sloan, and much to my surprise floated over a short section of the Sloan that measured 48 feet deep.
By this time the sun had come out, and rather than stop to fish we kept right on going up the Harrison. While not as wide or deep as the Sloan, the sand banks along its course are more prevalent and significantly higher.
I estimate we travelled close to 4km upstream and having kept my eye on the sonar all the way up, I had a good sense of what I had to work with in terms of depth, so on the way back decided to put the pedal to the metal. It was a really enjoyable break from all the fishing we had been doing over the past 2 weeks.
Once back to where the rivers met, there was no way that we weren't going to spend a little bit of time working the small weed bed adjacent to the confluence.
In total Kenny caught 8 with a couple topping 30", but number 8 came hard because once again he spotted a fish swimming by, whereupon they went into full shut down mode for the better part of 20 minutes.
Some people just never learn.
Before heading home we stopped to fish about 150 yards out from the river mouth and caught 9, 2 of which were in the teens.
While we had a great time cruising around and doing a bit of fishing here and there, the highlight of the day for me was that while fishing the river mouth I watched 2 very tiny, very fast little birds picking bugs out of midair and off the surface of the water. They were incredibly acrobatic and would twist, turn and dive while flying a high speeds, bringing to mind a of a couple of fighter jets engaged in a dog fight.
I could have watched those birds perform their aerial ballet all day.
Bud and Jim caught a mess of fish, and as an added bonus saw a Moose cow and calf only a short distance from the lodge. Jake caught a 20 pounder while Hank and Jan led all boats by catching over 100 trout, including Hank's 19 and 20 pounder.
Kenny and I on the other hand caught 11 trout, but then again we were after quality not quantity – lol.
July 16
I Guess That's a Wrap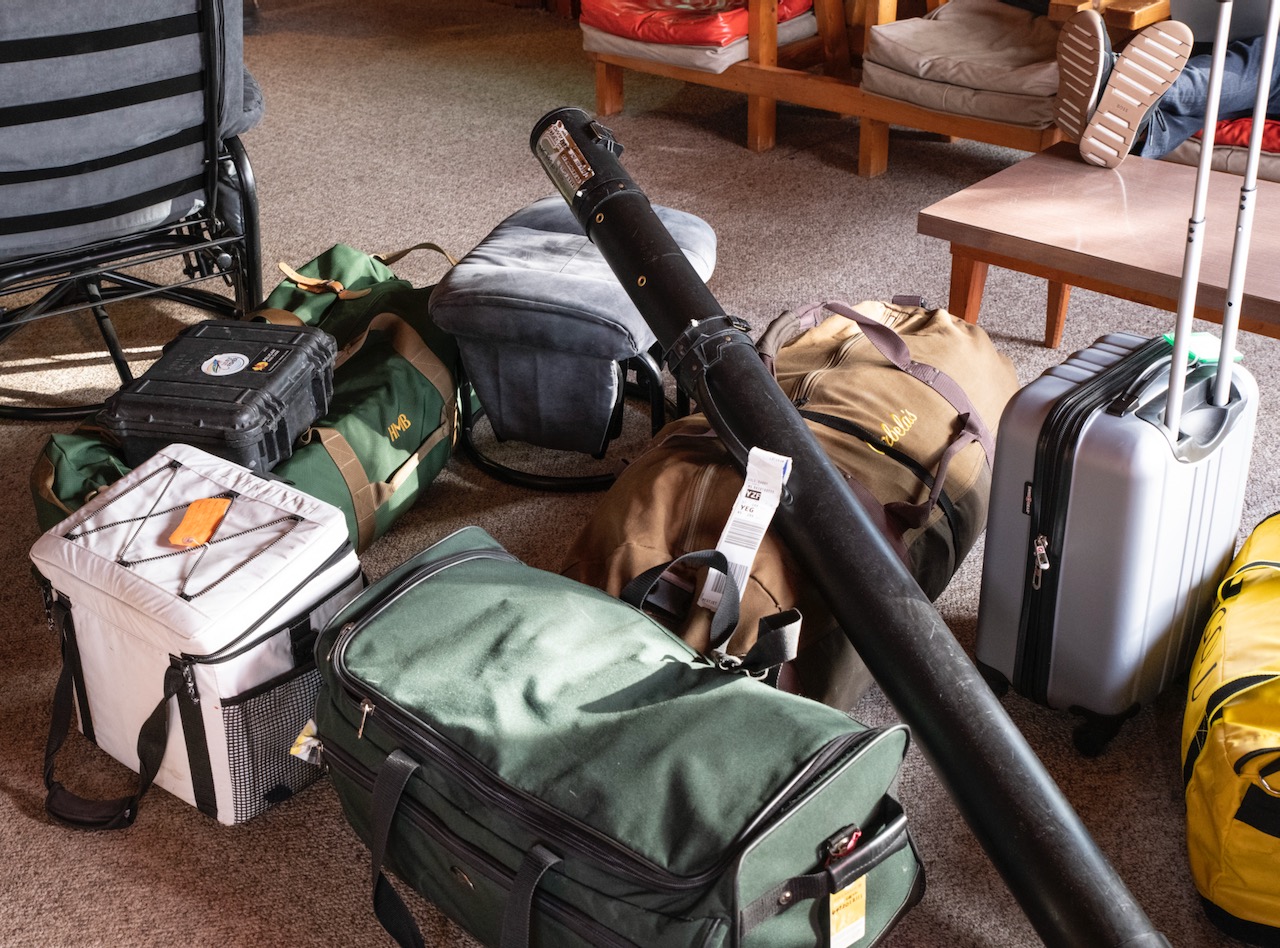 To my fellow "Circlites" let me say that it was a pleasure getting to know all of you, and sincerely hope that everyone enjoyed the experience.
June, Dean and Tilley, you were as always fantastic hosts, and when some of us return next year we look forward to you being there to greet us, because it simply wouldn't be the same without you.
The weather was perfect for the majority of the week, thereby allowing us to do some exploring and fish what was for most of us new water.
The number of fish caught was off the charts – I would estimate that between the 10 of us we topped the 1000 mark - and while the really big ones were somewhat elusive, there were plenty of trout in the 20's, one 40 and several good stories about the monsters that got away.
And let's not forget the Pike, which if you were so inclined to go after them, were plentiful and pretty damn big. There were even a few Grayling caught during the course of the week.
As we all know those of us who go to Arctic Circle are a very special lot, which was underscored by Plummer's calling in a Summit Air Dornier 228 for our exclusive use when flying back to YK, and considering all of the nonsense everyone had to put up with to get here in the first place, I don't think that any of us could have come up with a better way to end the week.
And one more thing…
I know that when Kenny reads this he will have a number of pointed comments about the veracity of its content, so I thought why not include at least one thing he may actually agree with.
When it comes to wrangling Pike of any size Kenny has few peers, and he is particularly adept at removing a hook that often times has been swallowed all the way down to its asshole while doing no harm to the fish in the process.
But then again, like the rock in Domex Bay I mentioned earlier, I may be just making shit up…
Last modified onWednesday, 03 August 2022 14:00