The "History" of Char Fishing
Written by Harold
Chances are, that if you have taken one of the side trips for Arctic Char offered by many of the lodges that have, and at least in one instance, continue to operate on Great Bear Lake, you would have been flown to the Tree, Coppermine or Kugaryuak Rivers.
Plummer's Arctic Lodges operates a camp on the Tree, and also offers day trips to the Coppermine; Trophy Lodge fished the Coppermine, while Branson's Lodge flew guests to both Bloody Falls on the Coppermine, and the Kugaryuak River.
Great Bear Lodge did offer a fly out in the early days, but I have been unable to ascertain the location at this point.
As it happens, the areas on these rivers where much of the fishing takes place also have a very rich history, both in a contemporary sense, and in the case of Bloody Falls, there is archaeological evidence that the area was occupied as early as 1300 BC.
Pretty cool stuff if you ask me. 
 The Coppermine or Kogloktok River
As noted above Branson's, Plummer's and Trophy Lodges all offered side trips to the Coppermine, albeit to different locations along its 845 km course.
Plummer's flies it's guests to the place where the Hornby River meets the Coppermine, while Trophy fishes what's known as the "Big Bend," which just happens to be where the Hook River spills into the Coppermine, and is also the point where the river comes closest to Great Bear.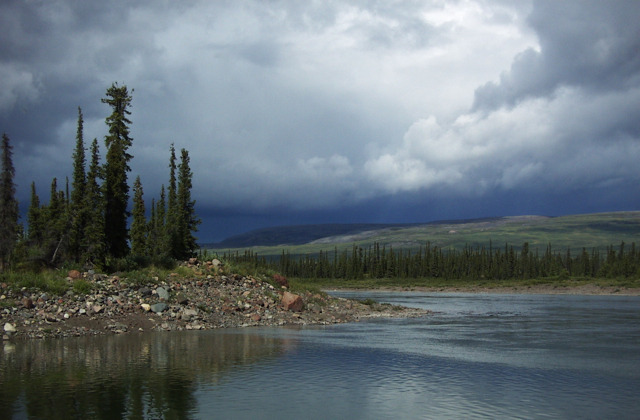 Branson's fished Bloody Falls, which has it's own rather unique history.
Bloody Falls are actually a set of rapids located about 15 km above the mouth of the river. 
Explorer Samuel Hearne named the falls in 1771, after he witnessed the massacre of local Inuit by a group of Chipewyan who were travelling with his expedition. 
The Copper Inuit used the place as a summer fishing site, and would stop there to gather native copper and wood from the forests that begin approx. 20 km upstream.
Archaeologists discovered traces of Inuit occupation dating back to about 1500 AD. The area was also occupied by Palaeoeskimos around 1300 BC, and by Indian caribou hunters somewhere between 500 BC and 500 AD. 
Bloody Fall was declared a National Historic Site in 1978, and is now part of Kugluk (Bloody Falls) Territorial Park in Nunavut. 
In addition, from 1928 to 1987 the Hudson's Bay Company operated a fur trading post and store on the west bank near the mouth of the river. They named it Fort Hearne after Samuel Hearne, who was the first European/Hudson's Bay employee to reach the mouth.
Around 1940 the name of the community and post was changed to Coppermine. While the fur trading post closed in 1941, the store continued to operate until 1987. In 1996 the community was renamed Kugluktuk.
A number of individuals worked at the trading post and store over the course of its operation, including:
• F. A. Barnes - 1931 – 1932
• William F. Joss - 1931 – 1932: 1934 – 1936 and again in 1938 (he must have really liked the place)
• Frank Edmond Heath - Post Manager - 1932 – 1932 
• Charles Reiach - Post Manager - 1935 to 1937 
• John William Nicholls - Post Manager - 1937 to 1938  
• Ralph Jardine - 1938 - 1939
• Foster Raymer Ross - 1930 – 1940
• John Livingstone - 1940 – 1941
• H. W. Chitty - 1941 - 1942 
• Lorenz Alexander Learmonth - Post Manager - 1943 – 1947 
• D. W. Munroe - 1947 – 1948
• Michael Leo Manning - 1948 – 1952
• William Munro - Manger - 1958 – 1970 
For more information on Bloody Falls and the Coppermine you can visit: 
http://pam.minisisinc.com/scripts/mwimain.dll/407/1/1?RECLIST&DATABASE=LISTINGS_WEB_INT
 The Kugaryuak River    
In the late 1970's Branson's Lodge pretty much stopped fishing the Coppermine, and opened an outpost on the Kugaryuak River.
Early season fishing took place at the base of the first set of rapids upstream from the Coronation Gulf, while later in August guests fished the river mouth.
From 1928 – 1932 the HBC operated it as an outpost of Fort Hearne, and from 1934 – 1939 as a full post.
Located close to the Kugaryuak River, it was built in the autumn of 1928 after the post at the Tree River was closed.
Some of the folks who ran things - several of whom worked at both the Tree and Coppermine posts - were:
• Foster Raymer Ross  - 1928 – 1929
• William F. Joss - 1934 – 1935
• Ernest James "Scotty" Gall - Post Manager - 1935  - 1936 
• J. L. Wilson - 1936 – 1927
• Arthur George Figures - Apprentice Clerk - 1937 – 1938  
• E. Donovan - 1938 – 1939
Additional information regarding this post is available at:
http://pam.minisisinc.com/scripts/mwimain.dll/388/1/1?RECLIST&DATABASE=LISTINGS_WEB_INT 
 The Tree or Kogluktualuk River
Plummer's Lodges has been operating a char camp on the Tree for as along as anyone can remember.
Not only does it consistently produce the biggest Char of all the places that I have mentioned – and perhaps anywhere else for that matter – it too has a rich and unfortunately bloody history. 
In 1922 a tragic incident occurred that involved the murder of two RCMP constables. 
As the story goes, Hudson's Bay Company employee, and RCMP Special Constable Otto Binder, together with RCMP Corporal, Andrew Doak were murdered by an Inuit named Alikomiak on April 1,1922, at the RCMP Station located at the mouth of the Tree, or as it was known then Port Epworth, or Epworth Harbour.
Corporal Doak had recently arrested Alikomiak, and his accomplice Tatimagana on suspicion of having murdered four Inuit at the Coronation Gulf in August 1921, apparently because of a dispute over a woman.
On a much less tragic note, the HBC operated a fur trading post at Port Epworth – from 1920 to 1937.
At the end of August, 1928 the post was abandoned, and its business moved to the Kugaryuak, but within a short period of time trade was re-established until the HBC closed up shop for good in 1937.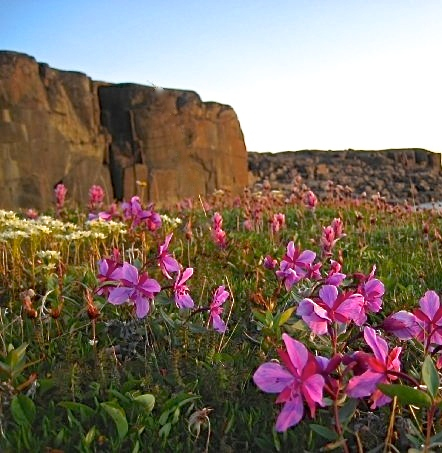 People involved in the operation of this post included:
• Otto Binder – Post Manager
• F. Jacobson
• R. Johnson, and
• Foster Raymer Ross
If you would like more information about the Tree River post, it can be found at:
http://pam.minisisinc.com/scripts/mwimain.dll/397/1/1?RECLIST&DATABASE=LISTINGS_WEB_INT 
 So Now That You Know…
So now that you know about some of the goings on that took place in these areas many, many years ago, in the event you find yourself in these parts for whatever reason, take a moment and reflect on those occurrences, because it just might transform an experience that is special in and of itself, into one that is truly remarkable. 
Last modified onTuesday, 03 April 2018 18:06