Written by Harold
"Moby Dick seeks thee not. It is thou, thou, that madly seekest him!"
Those of us who fish likely know a few people that can best be described as "fish magnets."
They're not necessarily experienced fishermen, or for that matter care very much about the sport, but regardless of where you are, or what the conditions may be, they catch while everyone else just washes lures.
The subject, or subjects of this particular story are not merely a random collection of unrelated individuals, but rather an entire family of bona fide, highly skilled "fish magnets" – the Harback's – who hail from Harriman, Tennessee.
Three generations of the Harback family have been fishing Great Bear Lake for well over 30 years, and the number of big fish – and by "big" I mean Lake Trout 50 pounds or better – they have hauled in over that time frame are more than just a little impressive.
As a matter of fact, even if you discount those that tipped the scales at 50 pounds or better, the fish they have caught in the 20 to 40 pound range, number in the hundreds.
The family patriarch Ed, who sadly is no longer with us, has likely caught more 50 pound plus Laker's than anyone who has ever fished the Bear. While unlike son Rodney and nephew Kevin he never topped 60 pounds, Ed has well over 20, 50 pounders to his credit.
Which then brings us to Rodney.
While his 50 plus list is nowhere near as impressive as his dad's, he has certainly caught his share, and to top it off has a 66.5 to his credit, which was – and in my opinion, and that of many others still is – the All Tackle World Record.
A relative new comer to the dance - nephew Kevin Addwel – represents the 3rd generation of the Harback clan to fish these storied waters.
While Ed and Rodney collectively have over 60 years on the "Bear" between them, Kevin has made just 3 trips, but his rather short tenure notwithstanding, it's fair to say that he is without a doubt a chip off the old block – or in this instance "blocks."
During his first trip in 2009, Kevin not only caught 2 Lake Trout over 20 pounds, he also landed a 23 and 26 pound Arctic Char. The 26 may very well have been the largest Char taken on a rod and reel that year.
He returned in 2010, and while unable to add any more trophies to his resume, truth is, it was slim pickings for all of us that year, in terms of overall numbers, Kevin pretty much out fished all of us.
It's often times been said that 3 is a charm, and in 2014 he started things off with a 30, and then, rather than work his way up the ladder like the rest of us mere mortals, simply jumped to 70 – yes, that would be a 70 - pound Lake Trout.
This remarkable fish, which I'm willing to bet will be the biggest Lake Trout caught angling anywhere on the planet in 2014 was, according to the Chance Prestie, a Trophy Lodge guide who also happens to also be a fisheries biologist, likely over 100 years of age.
To put this into some perspective, when this old girl was just a fry back in 1914, notable events included the first air flight out of sight of land, the first transcontinental phone link was established between San Francisco and New York City, and the First World War had just gotten underway in July of that year.
Pretty heady stuff when you stop and think about it.
It's also worth noting, that this fish was a healthy release due to the efforts of veteran Great Bear guides Paul Reynolds – who guided Kevin to, and landed the fish – and Harvey Anderson, who happened to be fishing in the same area, and came over to help Paul get her back into the water safe and sound.
And just in case you were wondering exactly where this particular fish was caught, if I may borrow yet another quote from the novel, Moby Dick:
"It is not down in any map; true places never are."
This story would not be complete without acknowledging the contribution that Art Ross has made both in this instance and otherwise, in "helping" others catch some really big fish.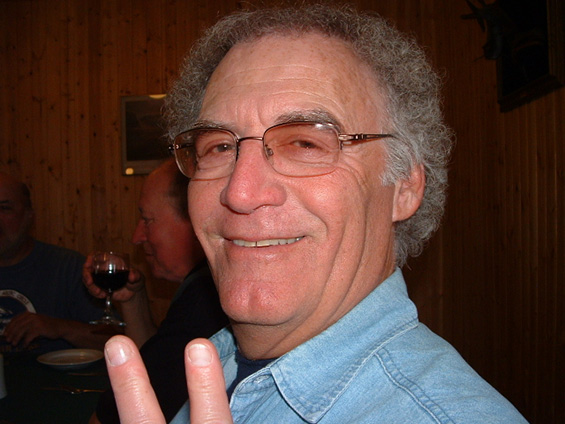 While Art has certainly caught plenty of big ones during the 30 plus years he has fished the "Bear", including several 50 and over, he has also distinguished himself as being a rather remarkable "fish magnet" of another sort, or to be more precise, not only does Art catch big fish, he attracts them so others can join in on the fun.
For example, guess who was in the boat when:
• Rodney caught some of his 50's, including the 66.5
• I hauled in my first fish over 40
• Bob Resnick landed his 57, and
• Kevin caught the 70
Go on - take a wild guess. Give up?
Hopefully Kevin and Rodney will be back next year thereby ensuring the continuity of this rather remarkable "Family Affair" which, when you look back on their family history, means continuing to catch some of the biggest Lake Trout in the world.
BTW – Art, do you think you may have some room in your boat next year?
Last modified onSunday, 22 March 2015 20:46