The Exploits of a Fly Rod Known as the "Tree River"
Written by Harold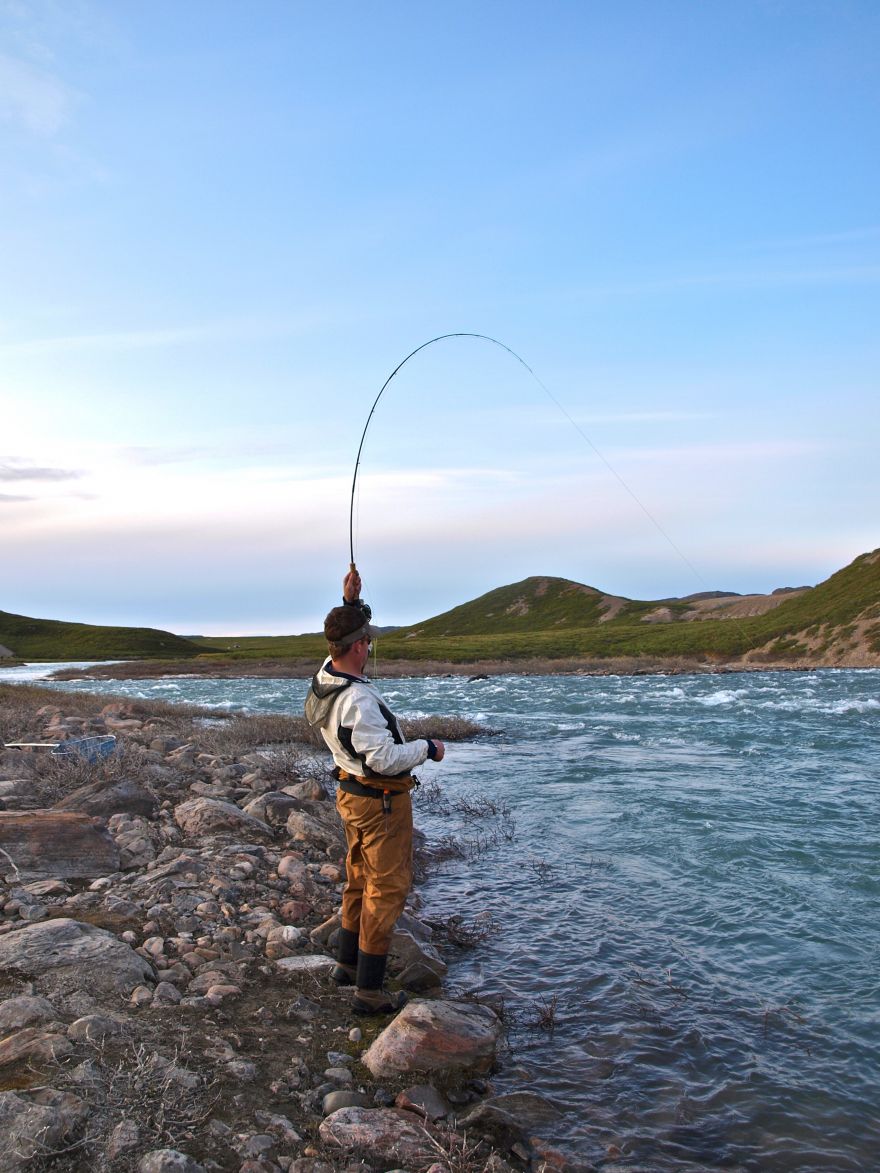 Craig Blackie Putting the Tree River Through Her Paces
This is a story about a fishing rod – a fly rod to be precise -but not just any old fly rod either.
Most fishermen usually have more than one rod in their "angling quiver," and among them perhaps a personal favorite or two.
If one happens to break or is otherwise put out of commission, what's the big deal, we simply find a replacement and move on.
After all it's just a fishing rod – so no big deal - right?
Perhaps to some, but when I heard that the "Tree River" may have met her* untimely demise in the wilds of Chile, I was somewhat melancholy about the whole affair.
Named the "Tree River" because she was specifically built to fish that selfsame river, she ultimately became an international traveller, and has successfully participated in fly-fishing competitions all over the world, including the World Championships.
The "Tree" began her journey on my rod-building bench during the winter of 2009, and was the first fly rod I had ever attempted to build.
Given my success, or more paricularly lack thereof with the first spinning rod I built, it was with some trepidation that I took her north in hopes of landing my first Char on a fly rod.
The Tree is a wild, torrential Arctic river that boasts the world's biggest Arctic Char, so she would be playing with the big boys right from the get go.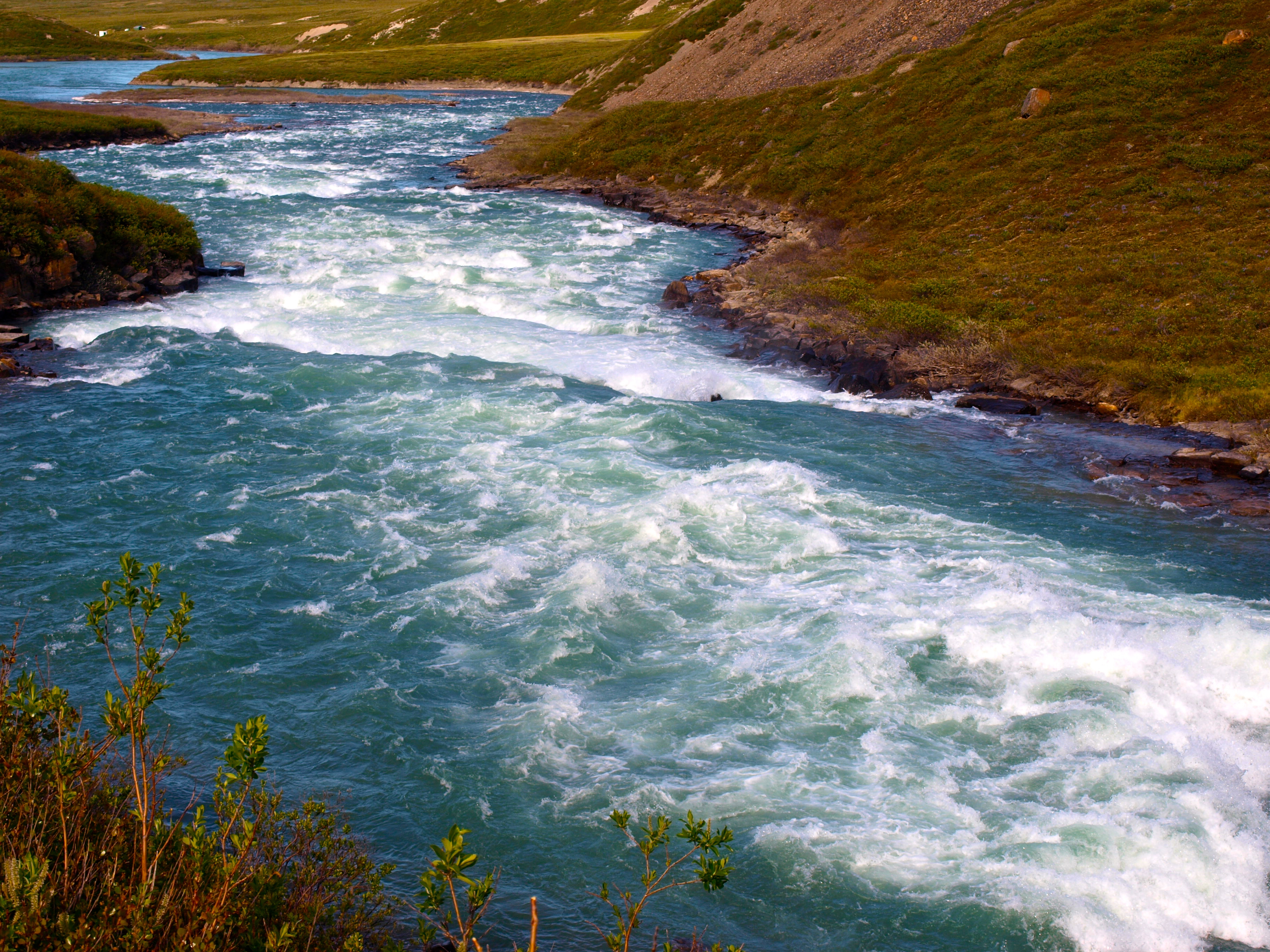 After the first several casts, not only did all of the guides stay attached – unlike the aforementioned spinning rod – she effortlessly handled three good size Char in some damn fast water.
I was both impressed and relieved.
The following year she transitioned into my Pike rod – being a 10wt and all – and easily dealt with literally 100's of those toothy critters, until July of 2016 when she made her triumphant return to the Tree.
Together we caught a number of Char, and also managed to wrangle in a boatload of Lake Trout while fishing the Bear.
For reasons that I still can't completely explain, I handed her off to good friend Josh "Jelly" Gelinas, who was in the process of starting out his career as an international fly fishing superstar, having just made the Canadian National Fly Fishing Team that same year.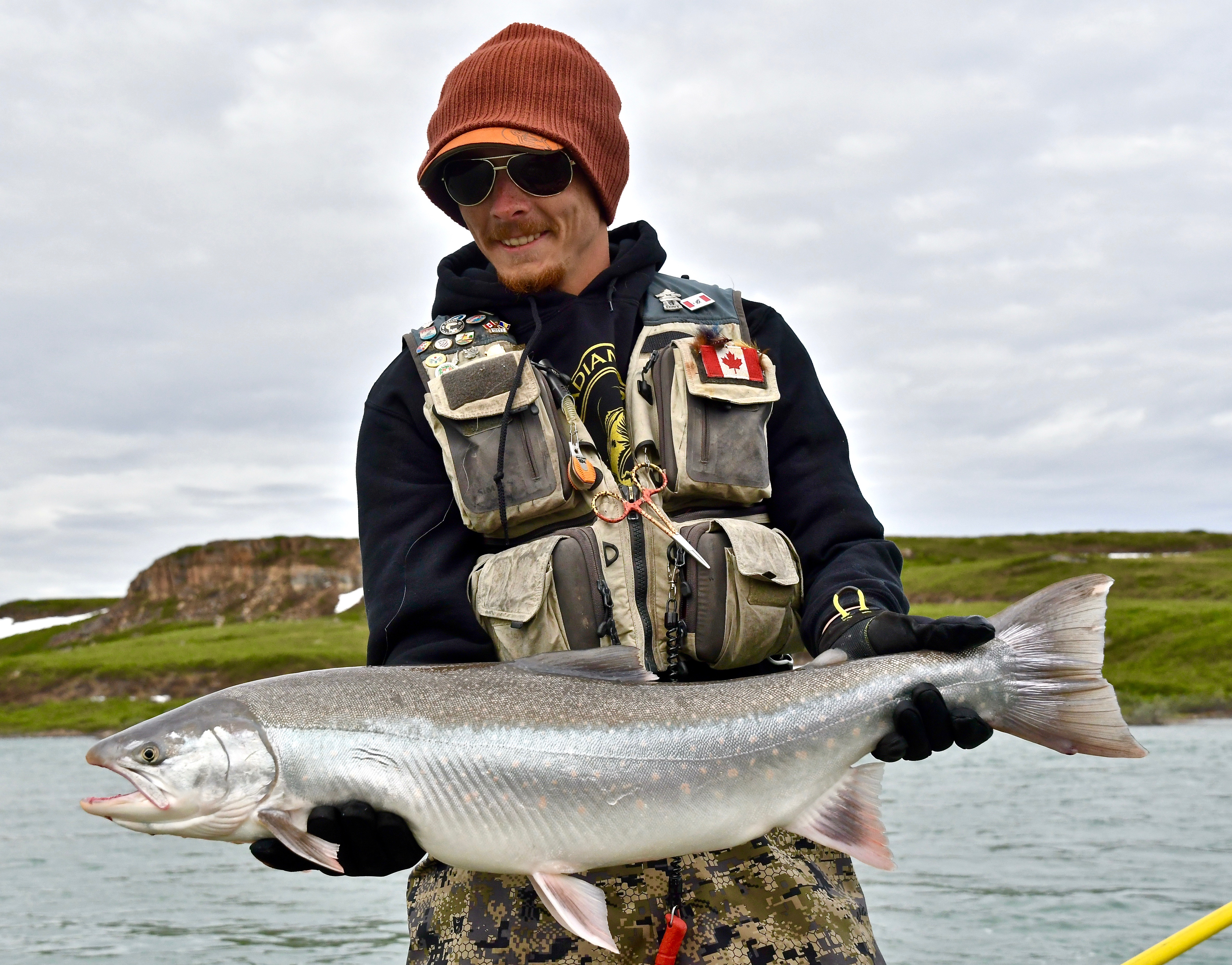 Perhaps because I was confident she would be in excellent hands, why not give her a chance to see more of the world and work the pro circuit for a while?
I lost track of her to some degree after the hand off, but from time to time would ask Josh if he was continuing to fish The Tree – which he assured me he was.
In fact she has been in Josh's arsenal for the vast majority of his competitions, and while not his main rod, he has always taken her along because he knows exactly how she will perform under any given circumstances, and if you're a competitive angler, you have to trust and have confidence in your equipment in order to be successful.
During her storied, and to date successful career she has caught Char, Pike, Lake Trout and Brown Trout, including Josh's first "Hucho" – whatever the hell that is.
In terms of travel, this girl definitely gets around, and has been to and fished throughout:
• Canada (including Alberta, Ontario, Nunavut and the Northwest Territories)
• Germany
• Holland
• Czech Republic
• Serbia
• Bosnia
• Croatia
• Slovakia
• United States
• Chile, and
• Italy (tent.)
Having never been to South America Josh decided to send her to Chile with Dave Jackson, and while fighting a wild Brown her tip broke, which I suppose if you're a fishing rod and you gotta go, there are worse ways to go about ending your career.
After hearing the news, he took immediate steps to have her shipped home and sent out for repair.
Here's hoping she makes a full recovery.
With any luck this story doesn't end here, and she will travel with Jelly to Trentino Italy and have the opportunity to participate in the "Worlds" this fall.
I'll be sure to let you know how it all turns out.
*In the oft chance anyone is wondering why I've used a feminine third person, singular personal pronoun (I looked that part up) to describe this fly rod, it's being used in an affectionate sense, because the Tree River is deserving of more attention than any rod I have ever built/owned, and referring to her as "it," "the rod" or something equally impersonal, was simply not going to cut it.
Last modified onMonday, 23 November 2020 18:48